Iron Maiden is indeed one of the most famous heavy metal bands globally. Formed in Leyton ( East London) in 1975, the band created a new wave of metal music movement across the world.
Their songs are deeply rooted in themes like mythology, war, classic literature, movies, and religion.
Iron Maiden has sold out 100 million records worldwide, and their mascot "Eddie" is the most versatile and recognizable metal mascot in the world.
Formation
As mentioned above, Iron Maiden was formed in 1975 by Steve Harris ( Bassist), and the original name was supposed to be Ash Mountain.
Steve, however, was inspired by Alexandre Dumas's novel "The Man in the Iron Mask."
The longest-serving members of the band are Steve Harris and Dave Murray. The original lineup included Dennis Wilcock and Terry Rance.
The second lineup included Tony Moore, "Thunder Stick," Barry Purkins, and Paul Di Anno. However, this didn't last long, as many members left the band.
Music Career
Iron Maiden recorded a four-song demo in 1978 and presented the copy to Neal Kay, Bandwagon Heavy Metal Soundhouse club manager.
"Prowler," one of the songs, became a hit on the sound charts and propelled the band to fame.
They released their demo under the record label Sound House Tapes, and in 1979, the Iron Maiden got the deal with EMI records.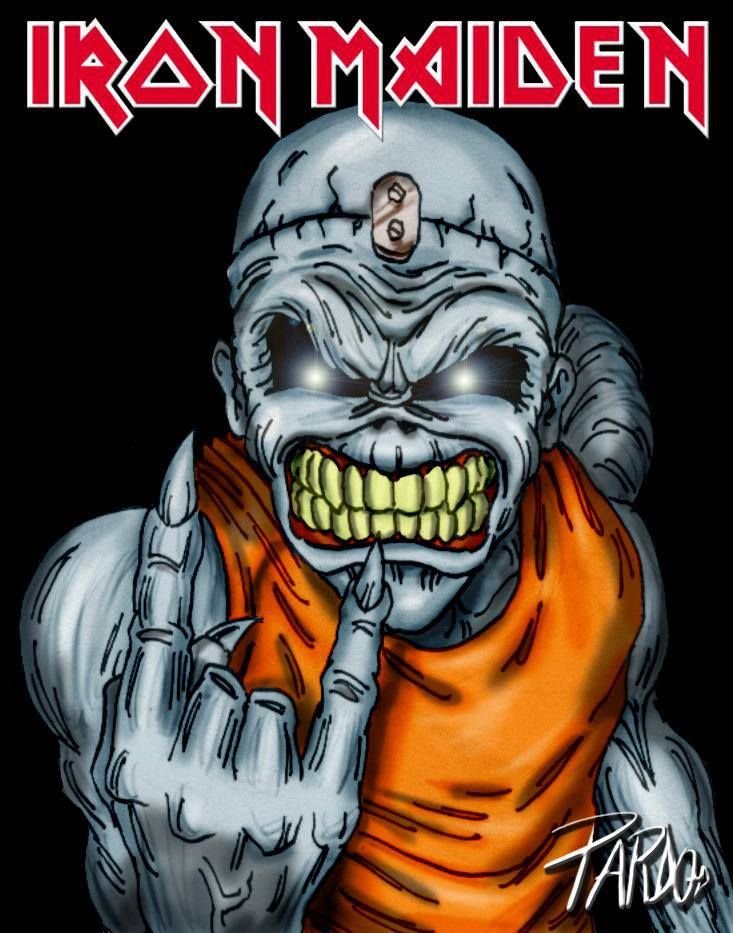 Iron Maiden's songs featured on the famous Metal for Muthas compilation in 1980 and became a part of the NWoBHM or " New wave of British Heavy Metal Movement."
Iron Maiden's early songs became great hits, such as "Phantom of the Opera," Sanctuary, etc.
They also opened for bands such as "Kiss" and "Judas Priest" during their tours. Their debut album also got them fame in Japan.
In 1981, Iron Maiden released their second album, "Killers," which was much in demand across Europe and Japan.
In 1982, their third album, "The Number of Beast," became the first on UK Album Charts and 33 on Billboard charts.
The band got into controversy over the album's name with some Christian groups during this time.
However, many songs in the album, including "Hallowed be thy Name," became heavy metal classics and paved the way for its golden era.
Other songs such as "Flight of Icarus," "Where Eagles Dare," "Die with Your Boots On," and Dune inspired "To Tame a Land" in their subsequent albums also fanned the flame of Iron Maiden's popularity across the world.
From '86 to '89, the band focused heavily on experimentation and came up with songs such as "Wasted Years." and "Alexander the Great," which all turned out to be successes.
The band ruled the metal world in the 1990s mainly by creating a lifestyle based on their songs and ideas. However, from 1998 onwards, they faced a downward spiral featuring low charts, troubles within the band, and failure of live acts.
The last especially took a toll on them as Iron Maiden was known as one of the greatest live acts ever.
However, they made their comeback with their 1999 reunion tour and released a compilation of their most significant hits titled "Ed Hunter."
Iron Maiden has a computer and mobile games to their name as well. Their mascot Eddie and their album covers are known to be some of metal music's most iconic paraphernalia.
The band is well active into 2020 as well.
Awards and Accolades
Iron Maiden has numerous awards and accolades to their name, including Grammy award nominations for "Fear of the Dark," "The Wicker Man," etc., and won best Metal performance for "El Dorado."
They also have multiple Guinness Book of World Records to their name.
The other major awards are Brit Awards, BBC Radio Awards, Juno Awards, and Classic Rock and Roll Honour Awards, and are also a permanent feature of the Rock and Roll Hall of Fame.
We have given a lot of iron maiden facts and information, and we have also prepared an iron maiden lyrics quiz, so if you are a fan of his, you should play our quiz and see how much you know about his music.
So let's start with the iron maiden quiz!