Slayer is an All-American Thrash Metal Band formed in 1981 in Huntington Park, California. Popular across the globe, Slayer is often counted as one of the top metal bands alongside Metallica, Anthrax, and Megadeth.
Formation
Slayer's original lineup included Kerry King, Dave Lombardo, Jeff Hanneman, and Tom Araya in California. However, there are a lot of rumors stating that the band was initially named Dragonslayer (after the film), though Kerry King himself denied these myths. It was Dave Lombardo who designed Slayer's iconic logo.
The band started by playing cover songs of various bands such as Iron Maiden, Venom, Judas Priest, and Black Sabbath. The band's original "Aggressive Perfector" made huge waves in the underground communities and earned them a recording contract with Metal Blade in 1983.
Music Career
Slayer's debut album was "Show No Mercy," released in December 1983. With a vast growing underground fandom, the band began a club tour in California.
Kerry King, one of the founding members of Slayer, joined Megadeth for five months and returned to Slayer. This incident caused a great rift between the two bands and led to a long-standing feud between Megadeth and Slayer.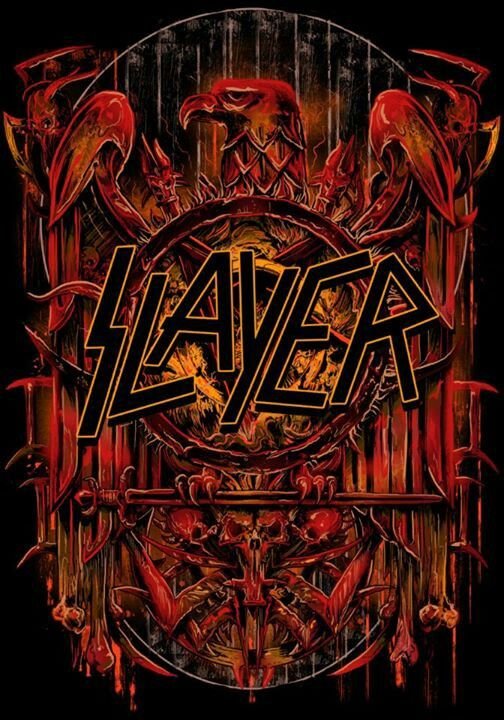 Slayer then released an extended play called Haunting the Chapel, which included the famous "Chemical Warfare."
The band followed up with many hit albums such as Hell Awaits, Reign in Blood, South of Heaven, and Seasons in the Abyss. In 1992, Drummer Dave Lombardo left and started his band called Grip Inc. Paul Bestaph replaced Lombardo in the same year, but he too left the band in 1995 and was replaced by Jon Dette.
The band made other albums, such as "God Hates Us All," "Eternal Pyre," "War Painted Blood," etc.
Gary Holt, the guitarist of Exodus, became a member of Slayer in 2011.
In 2013, Jeff Henneman passed away due to Liver Failure, and Gary Holt became an official replacement for him. Gary Holt worked with the band in both creating music and touring as well.
In January 2018, Slayer announced its Farewell tour as Tom Araya wanted to retire. Though they were supposed to complete the tour, Holt announced he would not perform with the band as he wanted to be near his dying father.
This incident unofficially ended the band, though there had been many speculations for its reunion as most of its members are still musically active.
Band Members
The frontline members of Slayer are Kerry King (Guitar), Tom Araya (Bass & Vocals), Jeff Hanneman( Guitar), and Dave Lombardo(Drums). Followed by Paul Bestaph (Drums), John Dette(Drums), and Gary Holt(Guitar).
Awards and Accolades
Slayer has been known for its immense contribution to the Thrash Metal Genre, and Reigning Blood is said to have one of the iconic opening riffs in the genre.
In 2006 Slayer was inducted into the "Kerrang! Hall of Fame"
Slayer won the Best Live Act in 2006's Metal Hammer Golden Gods Awards (UK)
Slayer has also been nominated for many Grammys and won Best Metal Performance for "Eyes of the Insane" and "Final Six" in 2007 & 2008, respectively.
We have given a lot of slayer facts and information, and we have also prepared an slayer lyrics quiz, so if you are a fan of his, you should play our quiz and see how much you know about his music.
So let's start with the slayer quiz!