5 seconds of summer finish the lyrics quiz5 Seconds of Summer, abbreviated as 5SOS, are a pop-rock band that originated in Sydney, New South Wales. Established in 2011, the group comprises members Luke Hemming, Michael Clifford, Ashton Irwin, and Calum Hood.
They began their career as celebrities on YouTube but gained International fame while touring with One Direction's fellow boy band.
Currently, 5SOS is one of the most successful Australian musical groups in history. Their genre of music includes pop-rock, pop, pop-punk, power pop, rock, and new wave.
History:
5SOS was formed in 2011 when three band members, Michael Clifford, Calum Hood, and Luke Hemming, began uploading videos on YouTube.
In December 2011, Ashton Irwin was invited to join the trio, and on December 3, 2011, they had their first performance at Sydney Pub.
Major music labels soon developed an interest in the band, who later signed with Sony/ATV Music Publishing.
An EP, "Unplugged," was released, which reached number three on the iTunes chart in Australia and the top twenty in New Zealand and Sweden. In 2012, they released their second EP titled "Somewhere New," co-produced by Joel Chapman.
On November 19, 2012, 5SOS launched their first single titled "Out of My Limit." The song received more than 100,000 views in 24 hours.
As a result of their rise in fame and commitment, the band grew, causing the band members to drop out of school, with Clifford having left school two years earlier in Year 10. He later completed a year at TAFE.
Calum Hood dropped out in Year 11 in 2012 due to the band's relocation to London. Although Irwin had graduated from Richmond High School in 2012, he studied music performance at a TAFE college before deciding to leave to focus on the band.
Until 2013, Luke Hemmings continued with distance education but dropped out in his last year in secondary school: year 12, due to his commitment to the band.
On February 14, 2013, an announcement that 5SOS would support the English boy band One Direction on their worldwide tour was made. 5SOS performed a national headlining tour in Australia during a break from the tour.
On November 21, 2013, the band released an announcement that they were signed to Capitol Records. On February 5, 2014, the band listed a debut major single titled "She Looks So Perfect."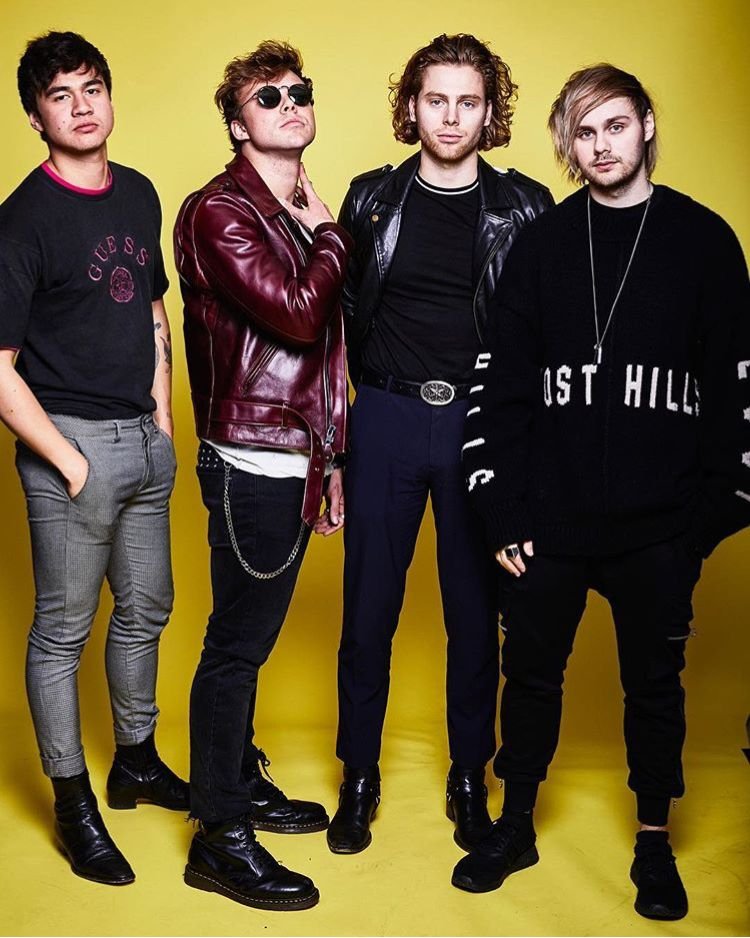 On April 9, 2014, their second single, "Don't Stop," was released at number one in four countries and reached number two on the UK Singles Chart. It was also Top Ten in eight countries.
Accolades:
5SOS has received several awards, including five ARIA Awards, three BMI Awards, three APRA Awards, and Ten MTV European Music Awards.
In 2019, the group received the renowned "Outstanding International Achievement Award" for their remarkable musical excellence and success during theAPRA Music Awards.
In 2020, they were honored in the APRA AMCOS and listed among the 1,000,000 List, which credits Australian artists who have amassed great success internationally.
For their single "Youngblood," the band also received awards. 5SOS is also heavily involved in Philanthropy
We have given a lot of 5 seconds of summer facts and information, and we have also prepared an 5 seconds of summer lyrics quiz, so if you are a fan of his, you should play our quiz and see how much you know about his music.
So let's start with the 5 seconds of summer quiz!