When Whitney Houston's Arista Records albums, videos, and singles were sold over 200 million copies worldwide, she set a new standard in achieving superstardom that can never be equaled. She has influenced so many male and female vocalists as well.
As a result of Whitney's inspiring achievements, music historians point out that she has now reached a new level by creating a trendsetting achievement by being the only singer to get into the chart of #1 Billboard Hot 100 hits for 7 consecutive times. Here is the list of songs:
"Where Do Broken Hearts Go?", "I Wanna Dance With Somebody (Who Loves Me)," "Saving All My Love For You," "Greatest Love Of All," "So Emotional," "Didn't We Almost Have It All," and "How Will I Know".
Whitney Houston's version of Dolly Parton's "I Will Always Love You" is the best-selling single of all time by a female artist, and also the soundtrack called "The Bodyguard" has always been in the list of Top 5 Albums when it comes to selling (at 8x-platinum for physical and digital in the U.S. alone).
On 9 Aug, 1963, Whitney was born in New Jersey into a musical family. Her prestigious family tree includes Aretha Franklin's Vocal group, Elvis Presley, and Dee Dee Warwick.
Houston also has ties to the gospel music scene, performing with the Drinkards gospel quartet and the Sweet Inspirations vocal group. Since she was a baby, Whitney's family, including her cousins and mother, have always fostered her love of gospel music.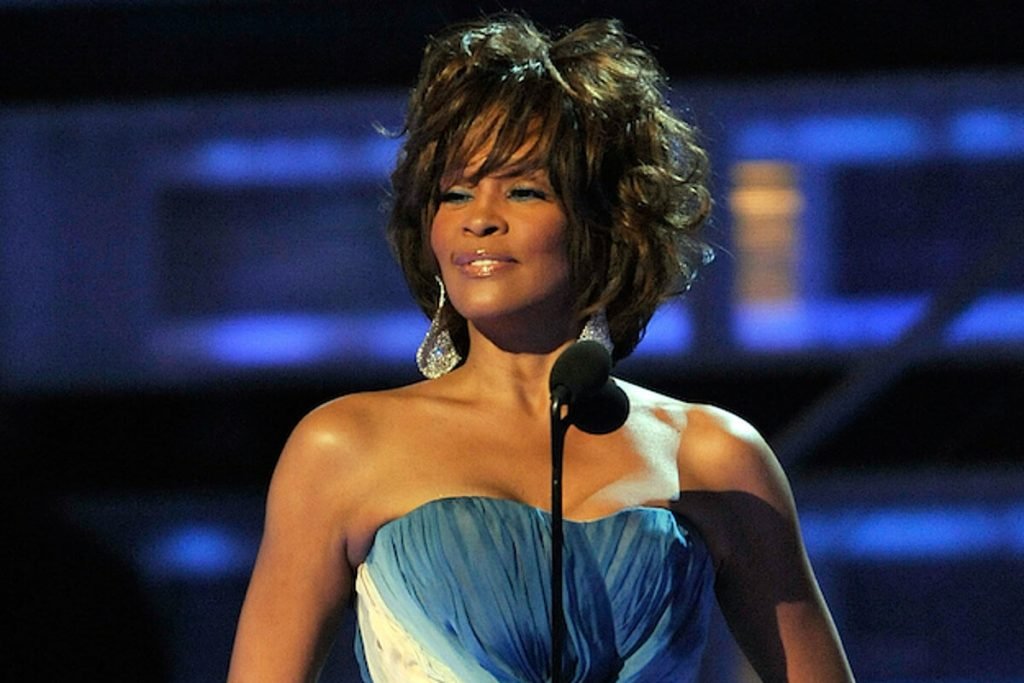 Recordings of Whitney Houston's early New York City music shows in the early 1970s and 1980s with such diverse acts as Michael Zager, Bill Laswell's Material, Herbie Mann, Chaka Khan, the Neville Brothers, and others were highly sought after by collectors of Whitney Houston memorabilia and autographs.
After seeing Whitney Houston perform in a nightclub in New York, Clive Davis immediately signed her to Arista Records, which was nearing the end of its first successful decade at the time.
Though it took two years to complete, her first album gave her a great victory.
After that, there was a release in Feb 1985 named after her as Whitney Houston marked the beginning of an era for the second decade of Arista, which again gave her collective hits including "How Will I Know," "Saving All My Love For You," and "The greatest love of All" that has since become a classic.
Over 13 million copies of the album were sold in the United States alone and millions of copies worldwide, establishing her as a major new recording artist. For the first time, a solo artist's debut album sold more than a million copies in its first week.
Her first release was a single named "I Will Always Love You", which created a history for biggest-selling as the best single by a female artist, and this helped her to become the Best Female Performer for Pop Music and also she was awarded GRAMMY in the same year for her selling record of her single.
Apart from that single, there were other three singles in the same album, which gave her big international hits. The singles were named as "I Have Nothing," "I'm Every Woman," and "Run To You."
The soundtrack album "Bodyguard," which includes six Whitney Houston songs, has been sold worldwide, and it was around 45 million copies.
With a total of 18-times platinum status in America, this is the most popular soundtrack album for a film in history, beating out Saturday Night Fever and Forrest Gump.
We have given a lot of Whitney Houston facts and information, and we have also created a Whitney Houston lyrics quiz, so if you are a fan of her, play the quiz and see how many of her songs you remember.
So let's start with the Whitney Houston quiz!