U2
U2 is a famous Irish rock band formed in Dublin and started in 1976. It has 2.6 million followers on Instagram.
The U2 band has improved in every step of their career, but they have their style of music built on Bono's expressive vocals and Edge's chiming, effects based on guitar sounds.
Members Of The U2 Band
Present Members
· Bono
· Adam Clayton
· Edge
· Larry Mullen
Past Members
· Dik Evans
· Ivan McCormick
Bono
Paul David Hewson is the full name of Bono; he was born on 10 May 1960 in Rotunda Hospital, Dublin, Ireland.
Bono is his stage name; he is a famous songwriter, singer, and philanthropist. He is the vocalist in the band U2.
Bono is also a part of music groups such as Band-Aid 30 passengers.
Bono's spouse is Ali Hewson, and the children are Eve Hewson, Elijah Hewson, Jordan Hewson, and John Hewson.
Adam Clayton
Adam Clayton is an English-born Irish musician. Who works as a bassist in the U2 band.
Adam Clayton was born on 13 March 1960 in Chinnor, United States. His parents are Brian Clayton and Jo Clayton.
Throughout his career, he worked on solo projects.
Edge
The original name of Edge is David Howell Evans. He is an English-born Irish songwriter, musician, and singer.
Edge was born on 8 August 1961 in Barking, United Kingdom. His children are Blue Angel Evans, Levi Evans, Hollie Evans,
He is famous as the lead guitarist, keyboardist, and vocalist in the band U2.
He was also a part of passengers and Bono bands.
He collaborated with Bono on several projects outside the band.
Larry Mullen
Lawrence Joseph Mullen is a famous Irish Musician, well-known drummer, and co-founder of the U2 band.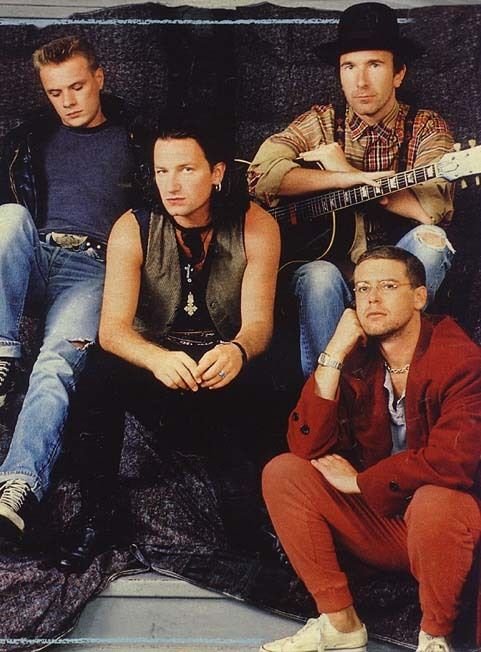 Mullen took birth on 31 October 1961 in Artane, Ireland. His parents were Larry Mullen and Maureen Mullen.
Glam rock acts influenced mullen.
Achievements And Awards Of The U2 Band
· 9 Billboard Music Awards
· 9 Billboard Touring Awards
· 7 Brit Awards.
· 2 Golden Globe Awards
· 22 Grammy Awards
· Two iHeartRadio Music Awards
· 4 Ivor Novello awards
· 2 Juno Awards
· 5 MTV Europe Music Awards
· 6 MTV Video Music Awards
· 5 NME Awards
· 1 NRJ Music Awards
· 15 Q Awards
The band started when the members of the group were teenagers, they were not much proficient in music, but when they reached the 1980s, the band became a top international band.
Top Hits Of The U2 Band
· I Still haven't found what I'm looking for in 1987
· One in 1991
· Sunday bloody Sunday in 1983
· Pride 1984
· With or without you in 1987
· I will follow in 1980
· Beautiful day in 2000
· Until the end of the world in 1991
· New year's day in 1983
· Starting at the sun in 1997
· Bullet the blue sky in 1987
· Mysterious ways in 1991
· Desire in 1988
· Where the streets have no name in 1987
· Hold me, thrill me, kiss me, kill me in 1995
· Gloria in 1981
· Sort of homecoming in 1984
· Lemon in 1993
· Elevation in 2000
· The electric coin 1980
· Stay in 1993
· Magnificent in 2009
· Bad in 1984
We have given a lot of u2 facts and information, and we have also prepared an u2 lyrics quiz, so if you are a fan of his, you should play our quiz and see how much you know about his music.
So let's start with the u2 quiz!