Can You Guess These Stranger Things Quotes Quiz | 30 Questions
You must be feeling that you are a badass expert of the Netflix show stranger things, but the reality is a lot of other people feel the same. The show stranger things is situated in Hawkins, Indiana, a fictional town, and the show got colossal recognition and won a lot of hearts of this generation and culture. The story of stranger things' characters has been quite relatable for a massive chunk of the population. The show is filled with Gruesome monsters and nostalgia from the eighties and some telekinetic powers. The show stranger things also have some pretty exciting dialogues and quotes.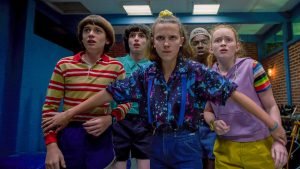 Can you read and recollect which stranger things characters said these lines? Some of the quotes are pretty fun, where others can make you weep like a baby, and some are just way too ahead of their time.
Some of the stranger things lines are so well that you would want to print them on a T-shirt or a coffee mug!
Only the person who is a hardcore fan of the show can name who said the following stranger things lines and quotes. 
So relax and grab a coffee and proceed to play the Stranger Things Quotes 
Quiz
!
No of Questions: 30
Difficulty Level: Medium
Rules: This is an easy mode strategy where players can continue to the very end of the quiz even in case of an incorrect answer.