Can You Guess These Eminem Lyrics Quiz | 30 Questions
Eminem is an American rapper and producer and also an actor. His real name is Marshall Bruce Mathers III, and he was born on October 17, 1972. Eminem is known as one of the best-selling and controversial artists of the early 21st century. He used to rap at nightclubs in Detroit, Michigan. Mathers had experienced bad childhood with abuse and poverty. Eminem had quit his school to make hip-hop music, and he became a very well-known solo artist and a member of the group D12, which stands for dirty dozen.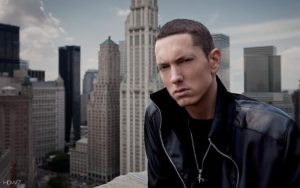 Eminem's songs had violent and vulgar lyrics, but that was just a part of his life that the fans accepted and told his story via his lyrics. Eminem is known for his rapping flow and the emotion-filled lyrics based on his life. A lot of other people in the industry are afraid to write the kind of lyrics Eminem does. We have made an Eminem lyrics quiz, so if you are a fan or mathers, you should play the Eminem song quiz and see how much you score on this Eminem
quiz
!
No of Questions: 30
Difficulty Level: Medium
Rules: This is an easy mode strategy where players can continue to the very end of the quiz even in case of an incorrect answer.