Seinfeld is the most popular show "about absolutely nothing."
The American comedy sitcom premiered in 1989 and ran till 1998. It aired over 180 episodes and nine seasons.
Jerry Seinfeld and Larry David conceived the show, and soon became a cultural icon in the USA.
It won numerous awards and accolades and is considered one of the top influential shows in TV history.
Cast and Characters
Jerry Seinfeld, played by Himself
Like in his real life, Jerry Seinfeld is a successful stand-up comedian who is the show's titular protagonist.
Seinfeld revolves around Jerry's slice of daily life and his adventures with his friends. He is a little popular celebrity cause of his stand-up acts.
His home is where all his friends get together and serves as the base for their adventures.
Elaine Benes, played by Julia Louis-Dreyfus
Elaine Benes is one of Jerry's friends and was also his ex-girlfriend. She is portrayed as highly sarcastic, funny, and hot-tempered.
Her life and adventures revolve around the quirks of her boyfriends, bosses, and other characters.
George Costanza, played by Jason Alexander
George is one of Jerry's oldest friends. An everyday man is portrayed as a sore loser who is very prone to fits of jealousy and showing off.
He also lies a lot, and many of his lies come back to haunt him creating various funny situations.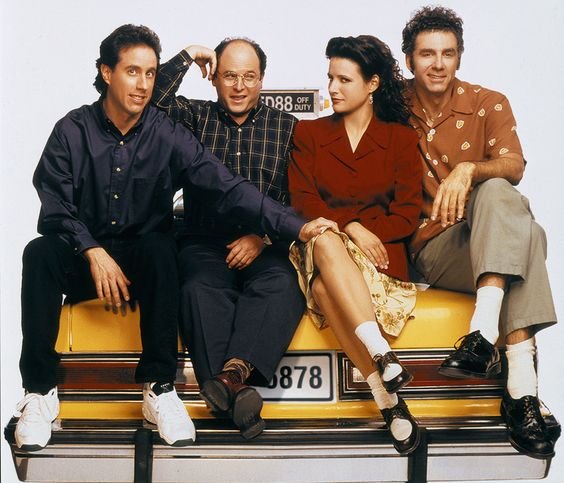 Cosmo Kramer, played by Michael Richards
Cosmo Kramer is Jerry's next-door neighbor and one of his longest friends. He has good chemistry with all of the gang.
Kramer is a slacker and often relies on Jerry for his daily life, including food and tv. However, he's also shown to be very generous and has a great charisma that makes him a great ladies' man as well.
He is also shown as uneducated and very laidback. The character is based on one of David's old neighbors.
Plot and Storylines
As mentioned earlier, Seinfeld is a story about absolutely nothing. The stories and episodes are based on the lives and occurrences of the creators' life.
The show blew off many cliches in television history, including the romantic angle between the leads.
And also, there are the makers who believed in the "no hugging, no learning" rule, which often served as a plot device to bring a cathartic experience to the viewers.
Thus in Seinfeld, there are no learning involved or moral lessons in the characters' lives. Much like our own.
The show also gave rise to many catchphrases in popular culture.
Awards and Accolades
Seinfeld has received both the audience's and critics' acclaim for its unique plotlines.
It won many awards, including 10 Emmys and 3 Golden Globes in the 90s. It has been nominated for over 68 Emmys.
The show also won multiple Screen Actors Guild Awards in 1995, 97, and 98. Seinfeld has also won the Directors Guild of America Awards and Writers Guild of America awards.
TV Guide also named it as the greatest TV show of all time in 2002 and won a Peabody award in 1993.