Megadeth is one of the most famous heavy metal bands in the world. They are known as one of the Big 4 of Americal Trash Metal alongside Metallica, Slayer & Anthrax.
Megadeth has fantastic music styles, including guitar work and rhythmic sections, and significantly shaped the thrash metal genre. They sold over 38 million records worldwide.
Formation
Dave Mustaine (Vocals/ Guitar) and David Ellefson (Bassist) formed Megadeth in Los Angles in 1983. Dave was initially part of Metallica but was fired due to personal conflicts with the band members and substance abuse.
He started a new band named Fallen Angels but soon changed to Megadeth. Lee Rausch became the lead drummer, and thus they began their musical journey.
Music Career
In 1984, the band recorded and released a three-song demo tape titled "Last Rites." The three songs included in the tape were "Last Rites – Loved to Death," "The Skull Beneath the Skin," and "Mechanix."
Gar Samuelson replaced Lee Rausch during this time, and the band signed up with Combat Records. "Killing Is My Business… & Business Is Good! " made them famous in the underground rock and metal circles. Vic Rattlehead, the band's mascot, started appearing on the covers of their albums.
In 1985, the band faced further troubles among the band members and its financial standpoint. It turned away from Combat records and signed a contract with Capitol Records.
Soon Megadeth became part of Alice Cooper's 1987 Constrictor tour and headlining world tour in the UK.
After this, "So Far, So Good… So What!" Megadeth released one of their evergreen hits. It captured the attention of both critics and the audience.
Penelope Spheeris even featured Megadeth in the acclaimed documentary The Decline of Western Civilization Part II: The Metal Years.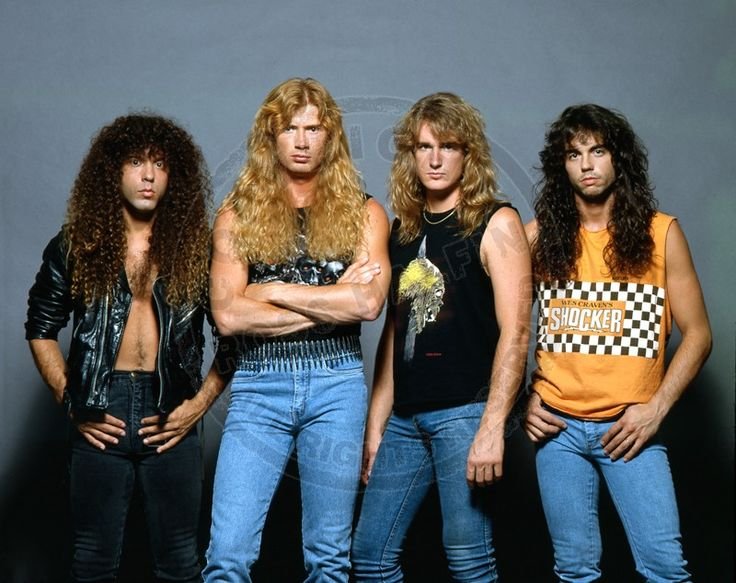 In 1989, the excessive drug and substance abuse and their hedonistic lifestyle caused further troubles for the band. After these troubles, Mustaine entered a court-ordered rehab.
Soon Mustaine turned sober, the band in 1990 released "Rust in Peace" with Rumbo Records. It became number 23 in the US and 8 in the UK charts. Highly acclaimed, it earned a Grammy nomination.
In the years between 1991 to 1996, Megadeth released songs and albums like "Countdown to Extinction," "Angry Again," and "Youthanasia."
Megadeth's music "99 Ways to Die" was featured in the hit animated series Beavis and Butthead show. Their "Angry Again" was featured in the film The Last Action Hero."
In 1997, Megadeth released "Cryptic Writings" and in 1999 "Risk," which became a flop. Perhaps the most significant setback the band had to face.
The early and mid-2000s were a roller coaster ride for the band as they disbanded in 2003 after Mustaine relapsed back to substance abuse after a surgery. But the band eventually got back with a new lineup and started making music again.
But in 2019, Mustaine had revealed that the band once again parted with Ellefson.
Awards and Accolades
Megadeth received the Grammy for "Dystopia" in 2017, which won the Best Metal Performance.
Dave Mustaine had won the Metal Guru award from the Classic Rock Roll of Honour Awards.
Megadeth also won Loudwire Music Awards, Golden Gods, and Genesis Awards.
We have given a lot of megadeth facts and information, and we have also prepared an megadeth lyrics quiz, so if you are a fan of his, you should play our quiz and see how much you know about his music.
So let's start with the megadeth quiz!