The media has often regarded him as one of the most controversial musicians of heavy metal music; Marilyn Manson has many controversies associated with him. Manson is a renowned singer, actor, painter, songwriter, and writer.
Manson is also the lead singer of the band 'Marilyn Manson.'
Early Life
Manson was born Brian Hugh Warner on January 5, 1969, in Canton, Ohio.
He is the only child of Barbara and Hugh Warner, and he is of English, Irish, Sioux, and German descent.
At school, he was instructed not to listen to particular music; he adored the same kind of music.
He adopted the name 'Marilyn Manson,' which combines two of America's most famous cultural icons names- Marilyn Monroe and Charles Manson.
Marilyn Monroe, an actress, was one of the iconic sex symbols on the silver screen, while Charles Manson was a criminal who served a life sentence for the murder of actress Sharon Tate.
Marilyn Manson – The Band
Along with guitarist Scott Putesky, he formed the Marilyn Manson band in 1989. The band was synonymous with their bold portrayals during their live shows.
It was not unusual to witness children locked in cages or naked women on stage during their live concerts. The band members also dressed in female clothing for their gigs.
Due to these antics, the band was considered a negative influence on the youth.
Their debut studio album, 'Portrait of an American Family,' came out in 1994. The album achieved moderate success due to a lack of promotion on the part of the record label.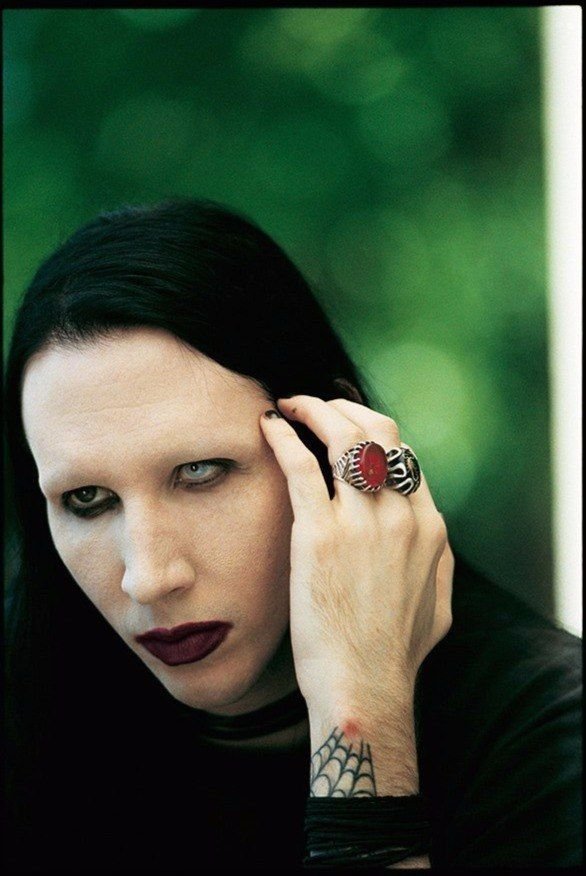 The band experienced commercial success after releasing their second studio album, 'Antichrist Superstar,' in 1996. It debuted at the number three position on Billboard 200 and sold 7 million copies across the globe, of which the band sold 2 million copies in the United States itself.
Controversies
It would not be wrong to call Marilyn Manson 'controversy's favorite child.' Over the years, he has had plenty of them surrounding him.
To begin with, American politicians have often criticized his song lyrics. There is a ban on the Marilyn Manson group performing at many venues across several U.S. states.
The news media blamed Marilyn Manson for influencing the perpetrators of the Columbine High School massacre in 1999. People blamed him for being a bad influence and instigating many other violent events, such as school shootings and murders.
Multiple women accused Manson of sexual abuse in 2021. Marilyn Manson has denied the allegations.
Accolades
The Marilyn Manson band has released about 11 studio albums, of which the RIAA certified three albums as platinum and three of them as gold.
Some of the popular albums of the band include Portrait of an American Family, Antichrist Superstar, and Mechanical Animals.
Eight of the band's albums debuted in the top 10 list, and two of eight debuted at the number one position.
The Hit Parader ranked Marilyn Manson at number 44 on its Top 100 Heavy Metal Vocalists list. Manson and his band have received four Grammy nominations, including one for his work on Kanye West's album Donda.
We have given a lot of marilyn manson facts and information, and we have also prepared an marilyn manson lyrics quiz, so if you are a fan of his, you should play our quiz and see how much you know about his music.
So let's start with the marilyn manson quiz!