Gustav Elijah Åhr was born in Allentown, Pennsylvania, on November 1, 1996. He was an American model, rapper, and songwriter raised in New York, specifically Long Island. His mother, Liza Womack, was a teacher, while his father, Karl Johan Åhr, was a college professor.
Åhr's parents divorced when the rapper was 14 years old; as a result, he spent his early years growing up without a father. After dropping out of high school, the singer resolved to take online courses to acquire his diploma.
Shortly after, he began uploading his songs on SoundCloud and YouTube.
As a young child growing up, Lil Peep was inspired by figures like Seshollowaterboyz, ILoveMakonnen, and others. He relocated to Los Angeles, where he met JGRXXN, Ghostemane, Craig Xen, Atlanta, Florida, and Houston rappers.
In 2015, Lil Peep released his debut mixtape, which garnered about 4,000 plays in the space of one week. Shortly afterward, he debuted his first EP titled "Feelz," following another mixtape called "Live Forever."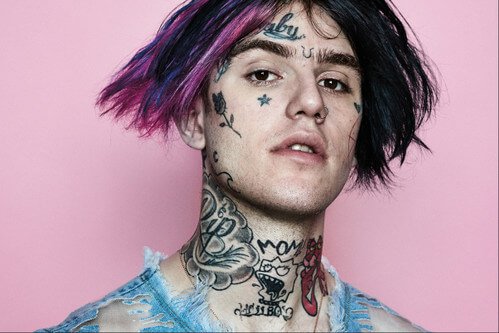 His popularity began increasing after "Star Shopping" and "Beamer Boy" were released. "Beamer Boy" led to the rapper having his first live performance in Tucson, Arizona, in March 2016.
In September of the same year, the album "Hellboy" was released. Songs from the album met with tons of views and plays on YouTube and SoundCloud; the album's successful outcome led to Peep's first solo tour, "The Peep Show Tour," in the United States held in April and May 2017.
Peep moved to London soon after his tour was done, and during this time, he recorded "Come Over When You're Sober" Part one and two, "Goth Angel Sinner, "and an unnamed project with Atlanta rapper, ILoveMakonnen.
On August 15, 2017, he launched his first studio album and began his first world tour in September, beginning in the U.K, then Germany, before ending the tour in the United States in November due to his death.
After the rapper's death, his popularity increased, leading to massive sales and streaming of his songs. The track "Awful Things" became Peep's first appearance on the Billboard Hot 100 at number 79. A documentary of Lil Peep's life titled "Everybody's Everything" premiered on March 10, 2019. April 2019 saw a re-release of two of the rapper's singles, "Gym Class" and "Star Shopping."
Lil Peep had also developed an interest in fashion from an early age. Before his death, he attended various fashion shows and modeled for several brands. In 2018, an announcement of the creation of Peep's clothing line called "No Smoking" was made.
The singer was announced dead on November 15, 2017, after his manager checked up on him in his tour business to arrange the tour's performance at Tucson, Arizona.
His death is believed to be caused by overdose, as a sequence of Instagram posts claimed that the rapper had ingested Psilocybin mushrooms and Cannabis Concentrate. A certified cause of death from accidental overdose was released on December 8.
We have given a lot of Lil peep facts and information, so if you are a fan of him, you should play our Lil peep lyrics quiz.
So let's start with the Lil peep quiz!