Grateful Dead
The Grateful Dead was a San Francisco Bay Area rock band formed in 1965. It was known for its distinct and eclectic style, which combined elements of rock, folk, bluegrass, blues, reggae, country, jazz, psychedelic rock, and gospel, and for living performances of extended periods of musical improvisation.
Grateful Dead members are widely regarded as the forefathers of the jam band music style.
The Grateful Dead's fans were known as "Deadheads," They were famous for their devotion to the band's music. Some fans followed the band from concert to concert for years, forming a distinct and tolerated parking lot scene for each show.
Over 30 years of touring and recording, "the Dead" and its sound evolved.
Each member's stylistic contribution became more identifiable, particularly guitarist Jerry Garcia, the band's de facto leader, though he officially refused the role.
Formation
The Grateful Dead began their career in Menlo Park, California, at Kepler's Books, where they performed live shows. The Warlocks were formed in April 1964 from the remnants of a Palo Alto jug band known as Mother McCree's Uptown Jug Champions.
Soon after, they relocated to San Francisco's Haight-Ashbury neighborhood. They joined groups such as Jefferson Airplane, Quicksilver Messenger Service, Big Brother & the Holding Company, and Santana in what was quickly becoming known as the epicenter of the hippie counterculture movement.
Jerry Garcia (guitar and banjo), Bob Weir (guitar), Ron "Pigpen" McKernan (organ), Phil Lesh (bass), and Bill Kreutzmann (jazz drummer) were the band's founding members.
When it was established that another band was already recording under the "Warlocks" name in early December 1965, the group altered its name to Grateful Dead.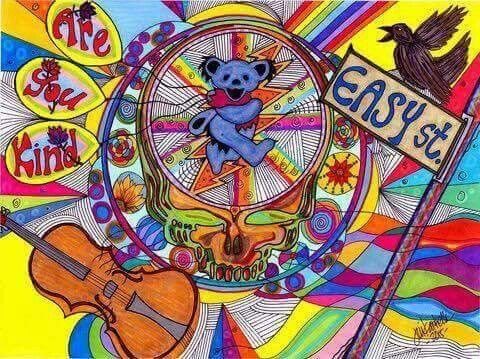 Touring 
The Grateful Dead toured throughout their long career consistently, usually three times per year, with spring, summer, and fall tours, performing over 2300 live concerts.
During their early Haight-Ashbury days, when they lived at 710 Ashbury Street in San Francisco, California, the band frequently gave their time and talents to their community, providing free food, lodging, music, and health care to them all.
The communitarian experiment was permanently jeopardized in 1967 when a population influx tipped the environmental scales and caused the entire Haight-Ashbury scene to implode. The band members moved north to Marin County, California, from 710 Ashbury in the early 1970s.
Dissolution And Re-emergence
Following Garcia's death in August 1995, the band's remaining members formally decided to disband. The members' main focus was on various solo projects, most notably Bob Weir's Ratdog, Phil Lesh and Friends, and Mickey Hart's various projects, including music for the 1996 Olympics.
Bob Weir (with Ratdog) and Mickey Hart (with Mickey Hart's Mystery Box), Bruce Hornsby, and his band toured the Furthur Festival in June 1996. Weir, Hart, and Bruce Hornsby formed a new band called The Other Ones at the 1998 Furthur Festival, with Phil Lesh joining them.
Legacy
The Grateful Dead existed on the outskirts of the "official music industry," developing a business model that was opposed to the concept of creating a polished album and then touring to support its sales.
They developed a model based on traveling as an end in itself rather than as a means to promote a studio album. Their tours included multiple-night runs at large arenas and stadiums from year to year.
Their shows, which were usually longer than two hours and sometimes much longer, rarely featured the same song twice in a row and were never played the same way on consecutive nights.
We have given a lot of grateful dead facts and information, and we have also prepared an grateful dead lyrics quiz, so if you are a fan of his, you should play our quiz and see how much you know about his music.
So let's start with the grateful dead quiz!