One of the most renowned rock bands in America, Evanescence, is often classified as a gothic metal band by most critics. It was founded in Little Rock, Arkansas, in 1995.
The founder members of Evanescence were singer, keyboardist, pianist Amy Lee, and guitarist Ben Moody.
Music Career
The band used to record independent albums before 2003. Evanescence released their debut full-fledged album titled 'Fallen' in 2003. Wind-up Records released it.
Fallen sold over 17 million copies globally. The album included the super hit singles, 'Bring Me to Life,' and 'My Immortal.' For Fallen, Korn won two Grammys.
Evanescence released their first live album in 2004. It was titled 'Anywhere but Home' and sold over one million copies globally.
Evanescence's second studio album, 'The Open Door,' came out in 2006 and sold over five million copies.
Evanescence went on a brief hiatus from 2007 to 2009. They returned with a new line-up in June 2009 to work on their next studio album.
The band came out with a third studio album titled 'Evanescence' in 2011. The album sold over 127000 copies and debuted at the number one position on Billboard 200.
Apart from Billboard 200, the album also debuted at the number one position on the Billboard Alternative Albums chart, Digital Albums chart, the Rock Albums chart, and the Hard Rock Albums charts.
The band spent 2012 on tours with other bands to promote their latest album. Guitarist Troy McLawhorn also joined the band as a full-time band member in 2012.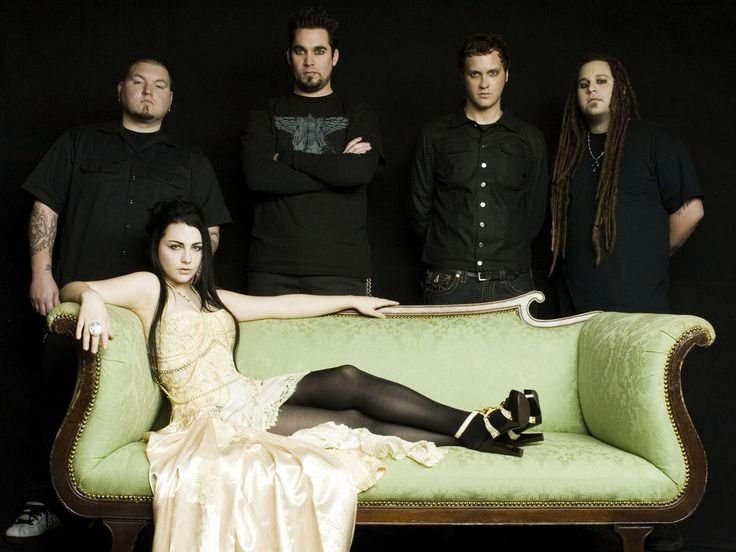 Evanescence announced another hiatus at the end of the 2012 tour cycle.
The band announced the end of their hiatus and that Evanescence would start touring in 2015. They also announced that they were not working on any new music as Amy Lee was busy focussing on her solo career.
Guitarist Terry Balsamo also quit the band in 2015 and was replaced by Jen Majura.
Amy Lee announced in March 2017 that the band was working on their fourth studio album. Their fourth studio album, 'Synthesis' was released in November 2017. There was a change in the band's music style in Synthesis.
Their fifth studio album, titled 'The Bitter Truth,' was released on March 26, 2021.
Evanescence has released five studio albums to date, including- Fallen, The Open Door, Evanescence, Synthesis, and The Bitter Truth.
Line-up Changes
The band's line-up changed multiple times over the years.
Most of these changes occurred during the production and promotions of the band's first two studio albums- 'Fallen' and 'The Open Door.'
Keyboardist and drummer David Hodges quit the band in 2002. Ben Moody left the band mid-tour in 2003. Drummer Rocky
Gray and guitarist John LeCompt quit the band in 2007. Guitarist Balsamo left the band in 2015.
Fans quickly noted that none of Evanescence's five albums feature the same artist line-up.
The band hired temporary band members for their various tour performances.
While it is not uncommon for a band to have a change of artists, the exit of band members like Balsamo, LeCompt, and Gray forced Evanescence to go on a hiatus.
We have given a lot of evanescence facts and information, and we have also prepared an evanescence lyrics quiz, so if you are a fan of his, you should play our quiz and see how much you know about his music.
So let's start with the evanescence quiz!