Emma Watson Quiz | 30 Questions
"Don't let anyone tell you what you can and can't do or achieve. Always Do what you want to do and be who you want to be." This quote itself had given you an idea that the person who wrote it would be the epitome of self-confidence and courage. And you are absolutely right. This quote has been written by a very famous English actress, model, and activist, Emma Watson. As we proceed to discuss her personality and recognition, you might be surprised to know that she is not only doing a great job in blockbusters and independent films, but she is also working her best in the area of Women's rights. Due to her excellent acting skills and hard work, she has been ranked among the World's highest-paid actresses by popular magazines, Vanity Fair and Forbes.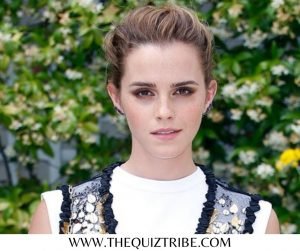 She started acting in school plays and got her big break when she professionally played Hermione Granger's role in The Harry Potter Film Series. While she was auditioning for this film, she impressed the film Producer and casting agents with her confidence, and that's how she won this role. After this film series, she rose to stardom. She bagged significant success in the fashion and modeling industry by playing a unique and perfect role in the movies such as The Perks of Being a Wallflower
,
 My Week with Marilyn
, 
Noah, Beauty and the Beast,
Little Women, etc. 
As a teenager, she also emerged as a fashionista because of her love for fashion. In September 2009, she was working with a fashion label that encourages fashion trade. She is an outspoken feminist and has promoted education for girls. 
So, in order to know more about her, let's take an exciting quiz on "Emma Watson: The Queen."
No of Questions: 30
Difficulty Level: Medium
Rules: This is an easy mode strategy where player can continue to the very end of the quiz even in case of an incorrect answer.