Wiz Khalifa Quiz | 20 Questions
Cameron Jibril Thomas, 
who we all know by his stage name 
Wiz Khalifa 
is an American rapper, songwriter, singer, and actor.
Khalifa was born on September 8, 1987, in Minot, Not Dakota, the U.S.A.U.S.A. to parents serving in the military. He was called a 
Military brat
, which caused him to move regularly. 
He lived in various countries — Germany, The United Kingdom, Japan, before settling down in Pittsburgh.
Khalifa's parents divorced when he was about 3 years old, and he lived with his Mom in Pittsburgh. He attended 
Taylor Allderdice High School
 and began writing and performing his lyrics before he became a teenager.
His stage name is derived from the Arabic word 
Khalifa 
which means 
'Successor,' 
and 
Wisdom, 
which he abbreviated to 
Wiz. 
He claimed that the name also came from being called 'young wiz' because he was naturally good with everything he did.
By 15, Khalifa was already recording in a studio called I.DI.D. Labs, whose management was impressed by Khalifa's lyrics and performance, let him record for free.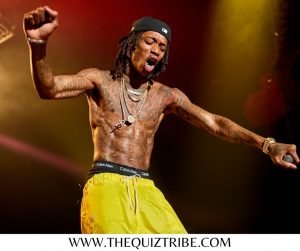 Khalifa is open about his use of cannabis and has affirmed his spending on cannabis in many interviews, $10,000 monthly. He is, however, sponsored by The Cookie Company, a medical marijuana dispenser, resulting in I'm Khalifa no longer paying for cannabis. In 2016, Wiz Khalifa was featured alongside Martha Stewart and Snoop Dogg in a cooking show where weed was used as the main ingredient. In May 2017, he began training in the martial art Brazilian Jiu-Jitsu, he also began training in Muay Thai with Cat Zingano, a former U.F.C.U.F.C. bantamweight title contender. In honor of Wiz Khalifa, the Pittsburgh city council declared 12-12-12(December 12, 2012) to be Wiz Khalifa's day in the city. Khalifa purchased a home in Cannonsburg, Pennsylvania in January 2012. Take our Wiz Khalifa
quiz
to test your knowledge about the artist.
No of Questions: 20
Difficulty Level: Medium
Rules: This is an easy mode strategy where player can continue to the very end of the quiz even in case of an incorrect answer.