The Ultimate Elon Musk Quiz | 30 Questions
Elon Musk (born June 28, 1971), an American businessman, co-created PayPal, an electronic-payment organization, and founded SpaceX, a spacecraft manufacturer, and launch vehicles. Also, he was a foremost investor in Tesla, a company that produces electric cars. At a very young age, he was showing a flair for computers and business. He produced a video game that he sold to a magazine focused on computers. In 1988, he shifted to the United States for a greener pasture and better economic prospects. He schooled at Queen's University in Kingston, Ontario, and later in 1992 transferred to the University of Pennsylvania, Philadelphia. In 1997, he bagged his bachelor's degrees in physics and economics. He enrolled in Stanford University's graduate school in physics but left after a relatively short time because he felt the Internet would transform society more than physics. He established a firm in 1995 that provided online newspapers with maps and business directories. He later sold the company to a computer manufacturing company for $307 million. Also, he established X.com, an online company that provides financial services. This company later metamorph PayPal and focuses on transferring funds online. In 2002, eBay, an online auction, purchased PayPal for $1.5 billion.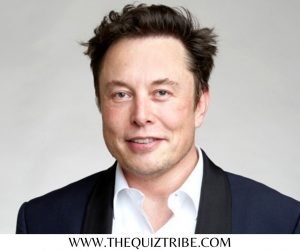 Convinced that humanity as a species must transcend a planet, he established SpaceX (Space Exploration Technologies) in 2002 to produce pocket-friendly rockets. His quest was not satisfied yet, as he partnered with others in 2003 to launch Tesla Motors, where he served as the CEO and Architect of the products. Tesla Motors aimed to make affordable electric cars, other battery products, and solar panels on the roofs. After diverse challenges with Tesla Motors, the company's value rose rapidly in 2020, and Elon Musk became the richest man in the world. With this concise description about Elon Musk, Let's take a short
quiz
on The Richest Man in the world and see how well do you know him.
No of Questions: 30
Difficulty Level: Medium
Rules: This is an easy mode strategy where player can continue to the very end of the quiz even in case of an incorrect answer.