No one is well-suited to the title, the 'King of Rock and Roll,' than Elvis Aaron Presley. One of the many significant cultural icons of the twentieth century, Elvis Presley, born on January 8th, 1935, was an American actor and singer. He breathed his last on August 16th, 1977, following a heart ailment.
Presley's compositions were noteworthy for his highly energized song interpretations and sexually provocative performance style. He was subject to both controversy and success due to these.
Early Beginning
Presley and his identical elder twin brother were born on January 8th, 1935, in Tupelo, Mississippi. Unfortunately for the small family, his twin brother was stillborn.
Facing initial setbacks and poverty in Elvis' formative years, the family relocated to Memphis when he was a teenager. This move facilitated his music career. In 1954, Presley recorded at Sun Records with music producer Sam Phillips.
With company from lead guitarist Scotty Moore and bassist Bill Black, Presley became the pioneer of the rockabilly music style. Rockabilly is the earliest style of rock and roll that is quite uptempo and is the backbeats-driven fusion of rhythm, blues, and country music.
Drummer D.J Fontana joined the group in 1955, after which they signed a contract with RCA Victor.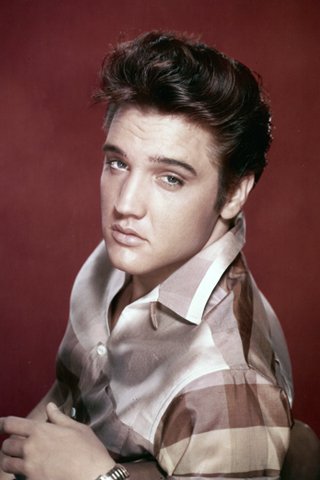 Popularity
Presley's debut single with RCA Victor titled 'Heartbreak Hotel' came out in January 1956. It instantly became the number-one hit in the US, selling over ten million copies of the single.
Presley gained popularity as the new sound of rock and roll due to his chart-topping music and television appearances.
Elvis Presley tried his hand at acting in November 1956, when his debut film, 'Love Me Tender' released in cinema houses.
Later, he also salvaged his music career and produced commercially successful music. Elvis started touring with his music group and starred in and composed soundtracks for Hollywood films.
His highly acclaimed televised comeback special, also titled 'Elvis,' marked his return to live performances after a gap of seven years. This success also resulted in another string of live concerts and tours.
Aloha from Hawaii, his concert in 1973 remains noteworthy as the 'first concert by a solo artist broadcast around the world.'
Presley died a sudden death in 1977, ensuing from unhealthy eating habits and prescription drug abuse. His age was merely 42 at the time of his death.
Achievements
According to the Guinness World Records, Elvis Presley is the best-selling solo music artist of all time. He was conferred upon this title to sell more than 500 million records globally.
Presley has won 3 Grammys; he received the Lifetime Achievement Award at 36. Owing to his commercial success across multiple genres- be it country, R&B, pop, gospel, or adult contemporary, his name has been entered in several music halls of fame.
Apart from the Guinness World Record, he also holds multiple records. Some of them include- the most RIAA certified gold and platinum albums, the most number-one albums, and singles by a solo artist on UK Music Chart, most albums charted on the Billboard 200.
He received the prestigious 'Presidential Medal of Freedom' in 2018 posthumously.
We have given a lot of elvis presley facts and information, and we have also prepared an elvis presley lyrics quiz, so if you are a fan of his, you should play our quiz and see how much you know about his music.
So let's start with the elvis presley quiz!