DaBaby
DaBaby is an American rapper. He has a vast following on social media platforms.
He has 20.7 million followers on Instagram, 4.4 million followers on Twitter, 6.5 million followers on Facebook, and 9.58 million subscribers on Youtube, and On Spotify, he has 35,545,000 monthly listeners.
Early Life
In Cleveland, Ohio, Jonathan Lyndale Kirk, known as Dababy, was born on December 22, 1991.
DaBaby graduated in 2010 from Vance High School. He attended the College University of North Carolina at Greensboro for two years but did not complete his studies.
He was the youngest of 3 brothers to his parents.
Musical Career
Nonfiction was his debut mixtape which got released in 2015. Initially, Dababy performed under the name Baby Jesus, which later he changed.
The South Coast Music Group label president, a prominent radio promoter, Arnold Taylor, gave a big break to DaBaby. When they continued working together, the team grew around the South with mixtapes and club shows.
DaBaby signed a deal with Jay-Z's Roc Nation for his Blank Blank mixtape, which gave a big breakout in 2018; later, Dababy landed a seven-figure recording deal with Interscope.
In 2017, DaBaby founded the American record label Known as Billion Dollar Baby Entertainment, based in Charlotte, North Carolina.
DaBaby's debut studio album Baby on Baby got released via Interscope Records on March 1, 2019. On September 27, 2019, his second album, titled Kirk, was released, and it featured a top US Billboard 200.
Later he made notable appearances on singles such as Post Malone's "Enemies," on the remixes to YG's "Stop Snitchin," Lizzo's "Truth Hurts, "and Lil Nas X's "Panini."
In 2019 DaBaby had 22 entries on the Billboard Hot 100 for the year, the most of any artist in 2019.
DaBaby's third studio album Blame It on Baby, was released on April 17, 2020, and received commercial success; it became his second number-one album.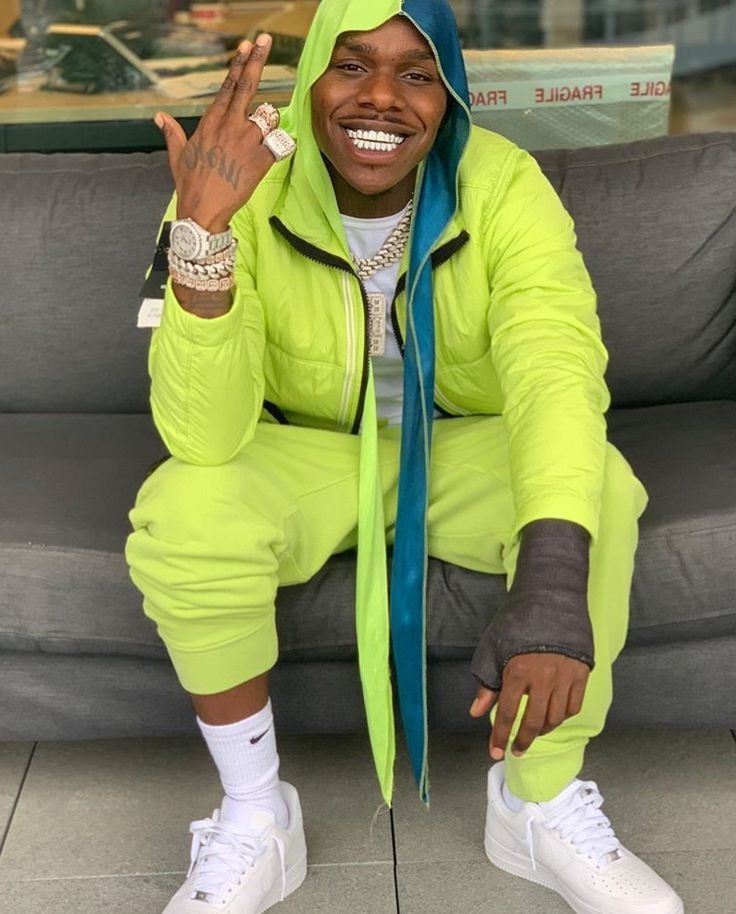 DaBaby's Studio Albums
· Baby on Baby
· Kirk
· Blame It on Baby
DaBaby's Collaborative Mixtapes
· Better than You
· NonFiction
· So Disrespectful
· The 10 Minute Mixtape
· God's Work
· God's Work Resurrected
· Baby Talk
· Baby Talk 2
· Billion Dollar Baby
· Baby Talk 3
· Back On My Baby Jesus Shit
· Baby Talk 4
· Baby Talk 5
· Blank Blank
His Extended Plays
My Brother's Keeper
Back on My Baby Jesus Sh!t Again
DaBaby's Singles As Lead Artist
· Light Show
· Comin' Over
· Big Butt
· Pull Up Music
· Walker Texas Ranger
· FuckYouTalmBout Freestyle
· Mini Van
· Crazy
· Baby on Baby Out Now Freestyle
· Suge
· I'm a Star
· Baby
· Duck Sauce
· Baby Sitter
· Gucci Bag Latina
· Coochie Bag
· Panini (DaBaby Remix)
· Intro
· Bop
· Shut Up
· Oprah's Bank Account
· Vibez
· Find My Way
· Rockstar
· No Dribble
· Peep Hole
· Blind
· Masterpiece
· Throat Baby (Go Baby) [Remix]
· Ball If I Want To
· Red Light Green Light
· Lonely
· Hit
· Neighborhood Superstar
· Bestie
· WIG
· BONNET
Awards And Nominations
ASCAP Rhythm & Soul Music Awards –Dababy Won 3 awards for "Baby Sitter," Cash Shit," & "Suge."
BET Awards- he received one award and ten nominations
BET Hip Hop Awards -received one award and two nominations
Billboard Music Awards- received two awards and six nominations
Grammy Awards – received six nominations
iHeartRadio Music Awards – received three nominations
MTV Video Music Awards – received one nomination
Personal Life
DaBaby's 1st child was born in 2017; He has three children.
At 34, DaBaby's brother, Glen Johnson, died in November 2020 from a self-infected gunshot wound.
In 2020 Dababy dated American singer DaniLeigh; they separated in February 2021.
We have given a lot of dababy facts and information, and we have also prepared an dababy lyrics quiz, so if you are a fan of his, you should play our quiz and see how much you know about his music.
So let's start with the dababy quiz!