Cher
Cher is a singer, actress, and television star born Cherilyn Sarkisian on May 20, 1946. She has been described as embodying female sovereignty in a male-dominated industry and dubbed the "Goddess of Pop" by the media.
Cher has released 26 studio albums, eleven compilation albums, two soundtrack albums, and three live albums. Cher has sold over 100 million albums as a solo artist and another 40 million as a member of Sonny & Cher, making her one of the best-selling female music artists.
Career Beginning
In November 1962, Cher met Sonny Bono while working for record producer Phil Spector. Cher took the job as Sonny's maid when her buddy moved out.
"Ringo, I Love You," Cher's first single, was produced by Spector and sung under Bonnie Jo Mason. Many radio station programmers turned down the song because Cher's deep contralto voice was mistaken for male vocals, believing it was a male homosexual performing a love ballad dedicated to Beatles drummer Ringo Starr.
After Cher signed with Liberty Records' Imperial label in late 1964, Sonny became her producer. The song "Dream Baby," released under "Cherilyn," received radio in Los Angeles. Imperial encouraged Cher to join Sonny on her second solo song for Imperial, a rendition of Bob Dylan's "All I Want to Do."
Cher's first album, All I Really Want to Do (1965), opened at number 16 on the Billboard 200 and was later described by AllMusic's Tim Sendra as "one of the better folk-pop tracks of the decade."
Onset Of Musical Career
With the top-ten hits "Bang Bang (My Baby Shot Me Down)" and "You Better Sit Down Kids," she launched her solo career around the same period.
Her CBS comedy series The Sonny & Cher Comedy Hour, which aired for three years and attracted over 30 million weekly viewers, was followed by the eponymous Cher.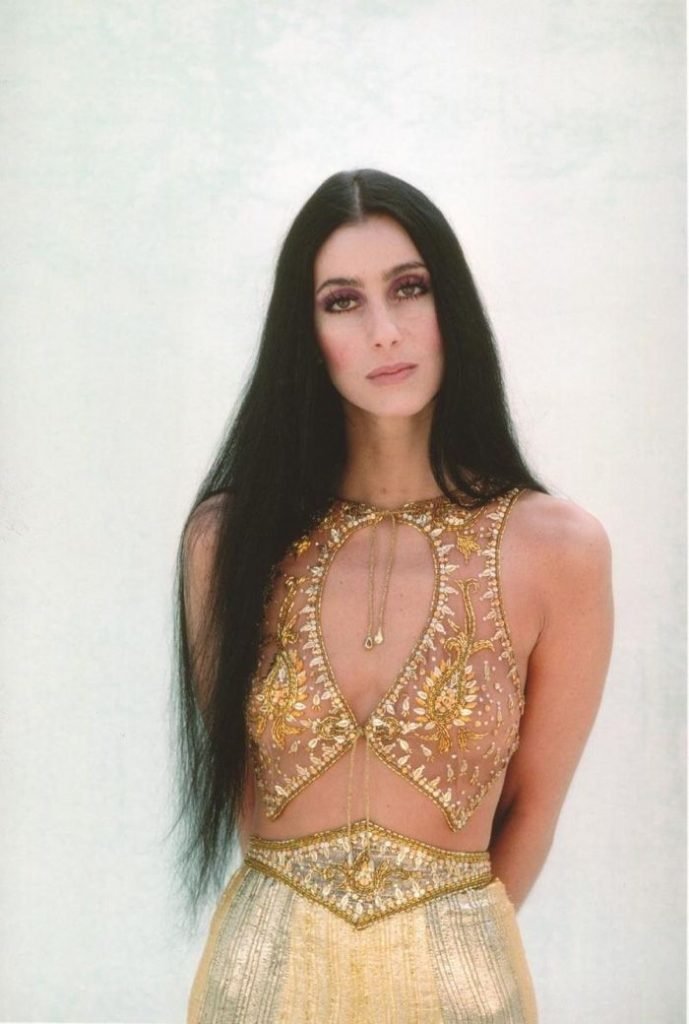 Her expensive wardrobe during her television appearances helped her become a fashion trailblazer.
With "Gypsys, Tramps & Thieves," "Half-Breed," and "Dark Lady," Cher became the first female artist to have the most number-one hits on the US Billboard Hot 100.
Musical Breakthrough
Cher debuted to fame in 1965 as one half of the folk-rock husband-and-wife duo Sonny & Cher, whose song "I Got You Babe" charted at number one in the United States and the United Kingdom. They have a total of 40 million records sold worldwide.
Sonny and Cher scored eleven Billboard top 40 hits between 1965 and 1972, five of which were in the top ten. They once had five songs in the top 50 simultaneously; a feat achieved only by the Beatles and Elvis Presley.
They had become rock's "it" duet, according to Time magazine's Ginia Bellafante, after selling 40 million records worldwide.
Believe, whose title tune topped the Billboard Year-End Hot 100 singles in 1999, helped Cher reach a new commercial high in 1998 when it became the best-selling single for a female artist in the United Kingdom. It features the "Cher effect," which was the first time Auto-Tune was used to distort her voice.
Her Demonstration: The Farewell Tour, which ran from 2002 to 2005 and grossed $250 million, was one of the most successful musical tours. She signed a three-year, $60 million deal with Caesars Palace to be the Colosseum's headliner.
In the 2010s, she acted in the films Burlesque (2010) and Mamma Mia! Here We Go Again (2018) and released studio albums Closer to the Truth (2013) and Dancing Queen (2018), all of which were critically at number three on the Billboard 200.
Accomplishments
Cher is one of the best-selling musicians globally, with over 100 million records sold globally. Her accomplishments include Grammy Awards, Emmy Awards, Academy Awards, three Golden Globe Awards, the Billboard Icon Award, and honors from the Kennedy Center Honors and the Council of Fashion Designers of America.
She was the first performer to have a number-one hit on every Billboard chart in the 1960s, 1970s, 1980s, and 2010.
She was named the 109th Greatest Artist of All Time and the 49th Greatest Hot 100 Artist by Billboard.
"Believe," her signature hit, has sold over 11 million copies worldwide, making it the best-selling female artist single in UK history and one of the best-selling physical singles.
In addition to her music and acting, she is known for her political ideas, social media presence, humanitarian projects, and social advocacy, including LGBT rights and HIV/AIDS prevention.
We have given a lot of cher facts and information, and we have also prepared an cher lyrics quiz, so if you are a fan of his, you should play our quiz and see how much you know about his music.
So let's start with the cher quiz!