Carrie Underwood
Carrie is a famous American singer and songwriter; She has 11.1 million followers on Instagram.
She is the one who won American Idol in 2005.
Carrie Underwood took birth on 10 March 1983 in Muskogee, Oklahoma, United States.
Her parents are Stephen Underwood and Carole Underwood. Carrie has two elder sisters, Shanna and Stephanie.
She was married to Mike Fisher, and they gave birth to two children.
Carrie Underwood's Childhood
She grew up on her father's farm. Her father went to the paper mill, and her mother was a teacher in elementary school.
She performed in the Robbins Memorial Talent show and sang in the local church as a child. Later on, she sang for local Checotah and Lion's club events.
She went to Checotah Highschool. Carrie graduated from Checotah high school in 2001 as a salutatorian. After completing high school, she didn't opt for music; Carrie said that she gave up the dream of singing; she wanted to be practical and prepare for the future.
She attended Northern state university in Tahlequah, Oklahoma, and completed a degree in mass communication, emphasizing Journalism.
During Summers, she performed in Northeastern State University's Downtown Country show in Tahlequah.
She got selected as Miss NSU runner-up in 2004.
In 2004 Carrie auditioned for American Idol in St. Louis. She sang I can't make you love me.
She got a fan base called 'Carries care bears' during the show; she sang Rascal Flatts.
After she won the show, she got a contract worth a million dollars and a chance to use a private jet for a year.
Underwood's musical career
Underwood's musical career began with the release of her single Inside your heaven on 14 June 2005. The song stood number 1 on the Billboard Hot 100.
She was the first girl to break the chart history of Billboard as the first country music artist to stand at number 1.
This song topped and ran continuously for seven weeks, becoming the longest-running single in 2005 in Canada.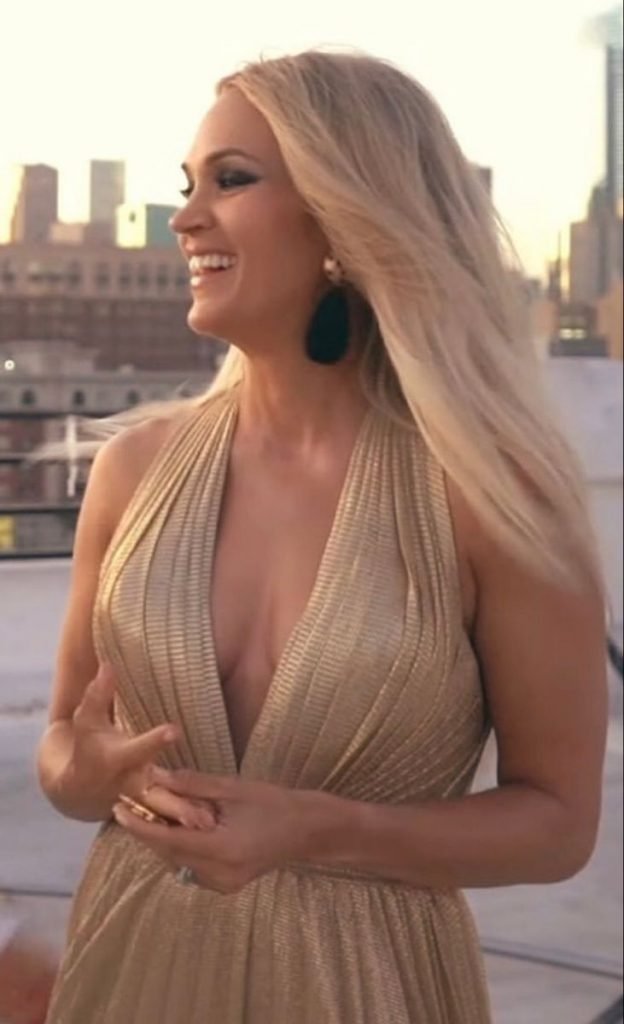 The song reached sales of nearly one million copies and was certified gold by RIAA and double platinum by CRIA.
Underwood's debut album, Some Hearts, was released on 15 November 2005 and entered Billboard charts, where 315000 copies sales happened in the same year.
The album became the best-selling album in the years 2006 and 2007.
She was the first female artist to get into fame back to back in the history of country music albums.
Underwood released My Savior, a gospel cover album. It stood number 1 on the billboards chart.
On 18 March 2022, Underwood released Ghost Story.
Achievements And Awards
Underwood is the top awarded country artist of all time.
· She won 8 Grammy Awards
· Twelve Billboard Music Awards
· Sixteen Academy of Country Music Awards
· Seventeen American Music Awards
· Nine Country Music Association Awards
· Seven Teen Choice Awards
· Five CMT Music Awards
· Ten BMI Awards
· Third entertainer of the year award from Academy Of Country Music Award.
Person Life
Underwood engaged with Mike Fisher in 2009. They were married on 10 July 2010 at Ritz Carlton Lodge in Greensboro.
She delivered her first son Isaiah Michael on 27 February 2015.
We have given a lot of carrie underwood facts and information, and we have also prepared an carrie underwood lyrics quiz, so if you are a fan of his, you should play our quiz and see how much you know about his music.
So let's start with the carrie underwood quiz!