Brooklyn Nine Nine Quiz | 30 Questions
Amidst the huge outbreak of the coronavirus, "Netflix and Chill" has become the lone rescuer of the human race. People are binge-watching their favorite TV shows with their friends and family to keep their mood light. While speaking simultaneously about TV Shows and light mood, the only best thing that can pop up inside my head is an absolutely popular American comedy series, Brooklyn Nine-Nine. Based on police procedural comedy, this sitcom revolves around a bunch of crazy detectives headed by a super serious and newly appointed Captain Raymond Holt, in a New York precinct. With their wit, teamwork, and presence of mind, they solve criminal cases in and around Brooklyn.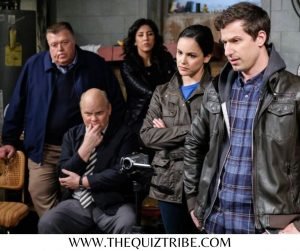 This light humored tv show has been comprised of such a wonderful and amazing cast that watching them on a loop will offer you the same delight again and again. The detectives work together and eliminate crime in a fun and quirky manner. And much to our amazement, it also portrays some serious social issues such as racial discrimination while retaining a sense of humor and sarcasm. This series has won two Creative Arts Emmy Awards and a Golden Globe award for Best Television Series- Musical or Comedy. If somehow you are feeling low or planning to give up on hard times, then you should take a break for a while and watch this light sitcom. We can assure you that you will find yourself laughing hard after a couple of minutes and will start feeling good again. So, for the people who have already watched this show, we have planned a small yet interesting
quiz
named "Nine-Nine Heads" to refresh your facts related to the cast and episodes of Brooklyn Nine-Nine.
No of Questions: 30
Difficulty Level: Medium
Rules: This is an easy mode strategy where player can continue to the very end of the quiz even in case of an incorrect answer.