The Birmingham-based Black Sabbath is one of the most famous rock bands in the world. They were known as the pioneers of the heavy metal genre.
Over 70 million records sold worldwide; Black Sabbath is one of the most commercially successful bands globally.
The original lineup included Ozzy Ozbourne( vocalist), Toni Iommi(guitarist), Bill Ward(drummer), and Geezer Butler(bassist).
Formation
Black Sabbath was formed in 1968 by Toni Iommi and Bill Ward. After which, they enlisted the members Geezer Butler and Ozzy Ozbourne.
Initially named the Polka Tulk Blues Band, they changed it to Earth, and it was in 1969, they changed its name to Black Sabbath.
Music Career
Ozzy Ozbourne and Geezer Butler wrote the song "Black Sabbath." The song created quite a buzz as it was a stark contrast to the flower power "hippie" movement, which was popular at the time. This also inspired the band to name themselves after the song.
In 1969, the band signed a record deal with Philip Records. It was also the year they released their first single, "Evil Woman," which was a cover of Crow. The song, however, did not do well.
Their song Black Sabbath was released in 1970. It became number 8 on UK charts and Number 23 on Billboard Charts.
Thus having mainstream exposure, Black Sabbath created fantastic music like "War Pigs," "Iron Man," & "Paranoid." "Paranoid" became "one of the greatest and most influential heavy metal albums of all time," according to the band's peers and critics.
In 1971, after a tour in Australia, the band returned to the studio to craft more songs. And first of their songs from this point were "Master of Reality," "Children of the Grave," "Leaf," etc.
During the time, Black Sabbath had troubles with substance abuse and took a long break from music production. They came out with the album titled "Snowblind," which, as the name suggests, is all about cocaine addiction.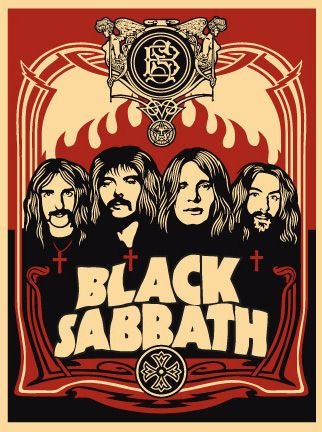 In 1973, the band came out with "Bloody Black Sabbath," which had the famous riff developed by Iommi and complex arrangements which brought them back to the limelight.
In 1974, they participated in "California Jam." In 1975, they came out with the album "Sabotage," which was arranged to be different from their usual line of work, especially "Bloody Black Sabbath."
By 1976, troubles began brewing within the band, as Osbourne was admitted to an Asylum. His extreme substance abuse and hedonistic lifestyle eventually led him to quit the band in 1977.
However, after trying to build his solo act and a band, Ozbourne was roped into rejoining the band. However, the lineup did not have its original passion, and many fans felt they were uninspired.
Ronnie James Rio replaced Osbourne, and a new era started. However, Geezer Butler also left the band temporarily during this period.
The band's lineup went on to have a lot of changes over the years. Only Iommi of the original lineup stood with the band to date.
Osbourne created a successful solo career and inspired many more bands and musicians.
In 1997, the band's original members came together for a reunion and released an album titled "Reunion."
Awards & Accolades
Black Sabbath had won many awards and accolades over the years. Their indictment into "The Rock & Roll Hall of Fame" and Two Grammys are the most significant.
In 2019, Black Sabbath was awarded Grammy Lifetime Achievement Award.
We have given a lot of black sabbath facts and information, and we have also prepared an black sabbath lyrics quiz, so if you are a fan of his, you should play our quiz and see how much you know about his music.
So let's start with the black sabbath quiz!