Trace Adkins
Tracy Darrell Adkins is a famous American country music singer and actor. He was introduced in 1996 with the album Dreamin Out Loud.
Adkins was born on January 13, 1962, in Sarepta, Louisiana, the U.S. his favorite instruments are vocals and guitar.
Early Life
Adkins developed an interest in music at ten years, and his father gifted him a guitar and appointed someone to teach him.
He went to Sarepta High School, where he joined a music group called The New Commitments. Later he went to Ruston university.
Adkins failed to graduate; he left the school and worked on an oil rig. He played music in the Bayou band.
Adkins worked as a pharmacy technician before jumping into a music career.
He lost the little finger of his left hand while opening a bucket. And he requested a doctor to attach it so that he could play the guitar.
Musical Career
Adkins released his first single, There's a Girl in Texas, in 1996. In 2001 Adkins met with an accident and injured and canceled his tours.
He went to a 28-day alcohol rehabilitation program in Nashville.
Adkins' chrome album, released in 2001, reached the top 5 on the country album chart. And in 2004, he released Honky Tonk Badonkadonk. The album reached the top 40 of the Billboard Hot 100.
The album This Ain't Love Song got released in May 2010.
Acting Carrer
Adkins got introduced to his acting career in 1987 with the film Square Dance.
Celebrity Apprentice
Adkins contested for NBC's The Celebrity Apprentice, held from January to March 2008.
The contest is to play for donations to their selected charity. Adkins played for Food Allergy and Anaphylaxis Network. Adkins opted for the charity because his daughter suffered from life-threatening reactions to eggs, milk, and peanuts.
Unfortunately, he was the runner-up that season; Piers Morgan won the show.
Adkins signed an agreement with truck stop chain Pilot Flying J to become a part of the company's new spokesman.
Awards
· In 1966 he won the ACM Top New Male Vocalist award.
· He won the CMT Male Video of the year award.
· Nominated for Grammy Awards in 2008.
· In 2009 he won the ACM Single of the year Award
· He won ACM Vocal Event of the year
· In 2010 he won CMT Award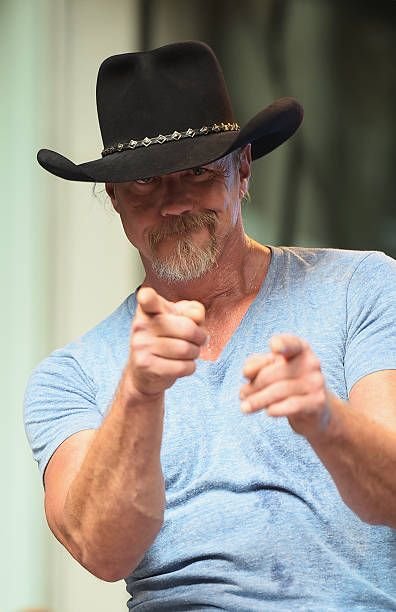 Trace Adkins Songs
· All I Ask For Anymore
· Arlington
· Big Time
· Break Down Here
· Brown Chicken Brown Cow
· Chrome
· Don't Lie
· Every Light in the House
· Hell Right
· Help Me Understand
· Hillbilly Bone
· Honky Tonk Badonkadonk
· Hot Mama
· I Got My Game On
· I Lest Something Turned On at Home
· I Wanna Feel Something
· I'm Gonna Love You Anyway
· I'm Tryin
· In color
· Jesus and Jones
· Just Fishin
· Ladies Love Country Boys
· Lonely won't Leave Me Alone
· Marry for Money
· Million Dollar View
· More
· Muddy Water
· The Rest Of Mine
· Rough and Ready
· Songs About Me
· Still a Soldier
· Swing
· Then They Do
· There's a Girl in Texas
· This Ain't No love song
· No thinkin' thing
· You're Gonna Miss This
Personal Life
Adkins married Barbara Lewis and gave birth to two children. Later they got divorced.
He got married to Rhonda Forlaw and delivered three children.