Calvin Cordozar Broadus Jr. popularly known by his stage name Snoop Dogg is an American rapper who rose to fame as far back as 1992.
Since the inception of his music career, he has sold more than 23 and 35 million copies of his albums in the United States and Worldwide, respectively.
Snoop Dogg was born in Long Beach. California on October 20, 1971, to former war veterans Vernell Vernado and Beverly Tate.
As a child, Snoop helped his family make ends meet by selling candy before discovering his talent for rap.
CAREER:
Snoop Dogg's musical career began officially when he took the stage name Snoop Doggy Dogg.
He worked on the theme song for Deep Cover with Dr. Dre. This collaboration contributed to the success of his debut album, Doggy Style.
In 1993, Snoop Dogg was charged with the Murder of Philip Woldermariam, a rival gang member.
On February 20, 1996, Snoop Dogg was acquitted and decided to quit living the "gangsta" life.
In 1994, a film about Snoop Dogg's murder case titled Murder was the case was released. The following year, Snoop founded his own record label, the Doggy Style Records, Inc.
In November 1996. Snoop released his second album. Tha Doggfather. The album featured Charlie Wilson and was successful, but less than the rapper's first album.
After the release of Tha Doggfather, Snoop began stepping away from gangsta rap to more calmer lyrics.
He released the album Paid tha Cost to Be da Bo$$ in 2002, which sold over 1,310,000 copies.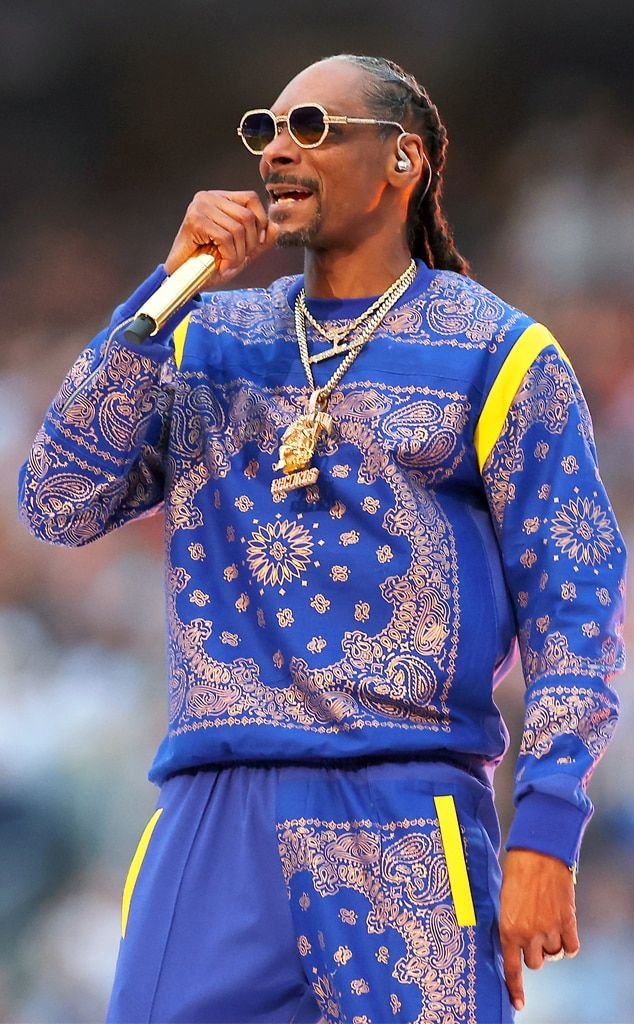 The album featured some of the rapper's hit singles, "From tha Chuuuch to da Palace" and "Beautiful," which featured guest vocals by Pharrell.
The same year, he worked on the remix of Welcome to Atlanta alongside Jermaine Dupri.
By this time in his career, Snoop Dogg had abandoned his "gangster" image, embracing a "pimp" image.
In 2006, Snoop released the album, Tha Blue Carpet Treatment, which debuted on the Billboard 200 at No.5, selling more than 850,000 copies.
The album and the second single, "That's That Shit" featuring R. Kelly, was well received by critics. For the single "Candy (Drippin' Like Water)," Dogg collaborated with E-40 and other West Coast rappers.
Snoop Dogg ventured into Bollywood with his first ever rap for an Indian movie, Singh Is King, he also appeared in the movie.
On June 8, 2008, the album which featured the song was released on Junglee Music Records.
The rapper collaborated with Katy Perry on the single "California Gurls" from her album Teenage Dream. The album was released on May 7, 2010.
Snoop went on to collaborate on many other projects while also releasing more and more successful albums.
ACCOLADES:
Snoop Dogg has been named the "West Coast icon" by The Washington Post, NME, and Billboard and "an icon of gangsta rap" by the Press-Telegram.
In 2006, he was called "The King of the West Coast" by Vibe Magazine.
The rapper has won an American Music Award, a Primetime Emmy Award, and 17 Grammy nominations.