The American heavy metal band, Slipknot, was formed in Des Moines, Iowa, in 1995. The band aspired to be successful and had to face ridicule at the start because of the Des Moines music scene back then.
Drummer Joey Jordison, percussionist Shawn Crahan, and bassist Paul Gray formed the band. The band has nine members.
Band Members
The current band members are Shawn Crahan, Craig Jones, Mick Thomson, Corey Taylor, Sid Wilson, Jim Root, Alessandro Venturella, Jay Weinberg, and Michael Pfaff.
Joey Jordison, Donnie Steele, Paul Gray, Josh Brainard, Anders Colsefni, Greg Welts, Brandon Darner, and Chris Fehn comprise the band's former members.
Music Career
The band's first release was an album called 'Mate. Feed. Kill. Repeat.' It came out in 1996. This album was the reason for the popularity of Slipknot, for it was only after the release of this album that record labels started approaching the band.
Roadrunner Records signed Slipknot in 1997. The band released their self-titled debut album, 'Slipknot,' in 1999.
The band gained popularity for their tours and live shows. Over time, Slipknot became synonymous with aggressive music style, chaotic and energetic live shows, and an attention-grabbing image.
The Ozzfest package tour proved to be a blessing for the band, as it helped them expand their audience base.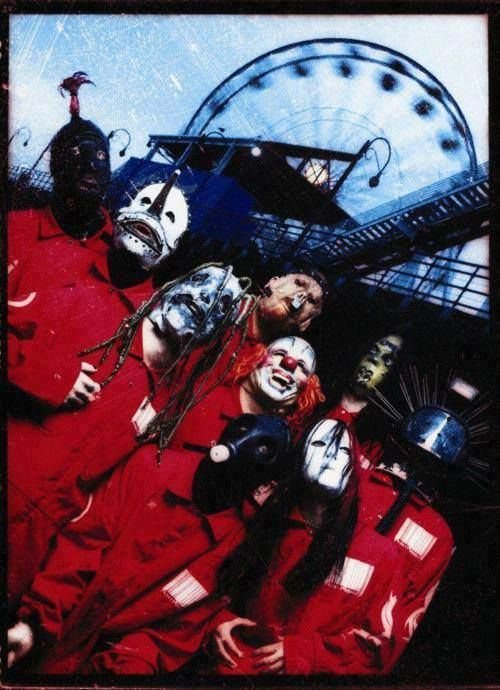 As per record, percussionist Shawn Crahan, on his drum kit, gashed open his head twice. He needed stitches at both times. Such energy of the band during live shows made Slipknot a relevant topic of discussion among metal fans.
Until the spring of 2000, Slipknot stayed relevant because of their tours and word-of-mouth publicity. Their album, Slipknot, was certified platinum in the spring of 2000.
Their highly anticipated second album, Iowa, came out in 2001. It failed to debut at number one as predicted and came out on number three position. The music on this album was darker than their previous album, but the band gained popularity.
After a string of touring, the band took a brief hiatus for the band members to focus on their respective careers. The band returned with the 2004 album, 'Vol. 3: The Subliminal Verses).
They took another hiatus following the release of their third studio album and returned with a fourth album in 2008 titled 'All Hope Is Gone.' It debuted at number one on the Billboard 200 chart.
Slipknot released their fifth album '.5: The Gray Chapter,' in 2014, after a long hiatus. They released their album 'We Are Not Your Kind' in 2019.
The band has sold more than 30 million records globally.
Apart from creating music, Slipknot has its record label named Maggot Recordings. A band called 'Downthesun' has a contract with the record label.
Slipknot has also released a compilation album, 'Antennas to Hell,' two live albums- '9.0: Live,' and 'Day of the Gusano: Live in Mexico' and five live DVDs.
Awards
Over the years, Slipknot has received ten Grammy Music Awards nominations.
It won the 'Best Metal Performance' in 2006 for its song, 'Before I Forget.'
We have given a lot of slipknot facts and information, and we have also prepared an slipknot lyrics quiz, so if you are a fan of his, you should play our quiz and see how much you know about his music.
So let's start with the slipknot quiz!