Guns N' Roses is known as one of the most famous bands in the world. The band's frontman, Axl Rose, and lead guitarist Slash have become cultural icons themselves, and their rebellious music and acts have earned them the moniker "World's Most Dangerous Band." They have sold 100 million records worldwide.
Formation
Guns N' Roses was formed by Axl Rose and the members of his previous band Ole Biech and Rob Gardner, in California, USA, in 1985.
Originally the band comprised members from two separate bands named Hollywood Rose and LA Guns. Thus Guns N' Roses were a combination of both these bands.
After a few rehearsals, Duff McKagan replaced Ole Biech, and the band went on to record their first three songs. And in 1985, the original lineup, including Slash & Steven Adler, joined the band.
Music Career
Guns N' Roses fused many genres, such as Punk Rock, Hard Rock, Heavy Metal, Blues Rock, and Hair Metal.
"Appetite for Destruction," the band's first album, was an instant hit, and so were their singles such as "Sweet Child O' Mine," "Shadow of Your Love," etc.
Songs including "Sweet Child O' Mine," "Welcome to the Jungle," and "Paradise City" had heavy radio and tv air time, which further boosted the band's popularity across the US and UK.
Their second album, GNR Lies, was a hit but got heavy criticism for its xenophobic and racist lyrics. The band's hedonistic lifestyle, roadies, and grave substance use rose during this time. It became culturally associated with the popular media's rock and roll lifestyle or subculture.
Guns N' Roses recorded two other subsequent albums titled Use Your Illusions 1 & 2, both of which featured terrific songs such as "Civil War," "November Rain," "Estranged," "Don't Cry," etc.
These were the most costly music videos ever made, and "November Rain" won the MTV Award for Best Cinematography.
During this time, Steven Adler was fired over his drug use.
In 1991, the band faced further troubles because of their controversial song "One in a Million." The band was also associated with many other famous musicians and bands such as Elton John, Metallica, Black Sabbath, and even Queen.
Guns N ' Roses Axl Rose was a highlight of the Freddie Mercury Tribute Concert, and Slash's rendition of the "Godfather" theme won many hearts during the Use Your Illusion World Tour.
In 1993, they released their fifth album, "The Spaghetti Incident?" which included covers of prominent punk and glam rock musicians.
In 1996, Slash, one of the poster boys of Guns N' Roses, left the band, citing the lack of collaboration and a feud with Axl. He returned to the band in 2016.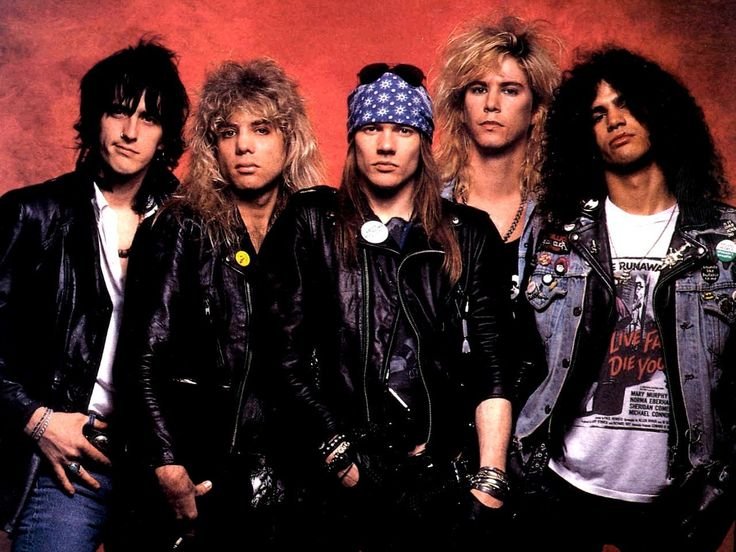 Guns N' Roses' "Chinese Democracy" was banned in China for its criticism of the government.
The band is still working on new songs as per the latest reports.
It's said that they had the potential to become the next Led Zepplin or Rolling Stones if the original lineup continued for the long run.
Band Members
The lineup includes Axl Rose, Slash, Dizzy Reed, Duff McKagan, Richard Fortus, Frank Ferrer, and Melissa Reese from 2016 onwards.
Awards and Accolades
Guns N' Roses is still a top-rated band and has won numerous awards and recognition in their musical journey, including MTV Music Awards, BRIT Awards, Billboards Music Awards, and multiple Grammy Nominations American Music Awards; and has also been inducted into the Rock and Roll Hall of Fame.
We have given a lot of guns n roses facts and information, and we have also prepared an guns n roses lyrics quiz, so if you are a fan of his, you should play our quiz and see how much you know about his music.
So let's start with the guns n roses quiz!