Born Francis Albert Sinatra, the late Frank Sinatra was an American director, producer, actor, and singer. Being one of the best-selling music artists, the singer has sold about 150 million records worldwide.
Sinatra also had a successful acting career during his lifetime, winning various awards for his roles in movies such as "The Man with the Golden Arm," "High Society," "Pal Joey," etc.
Early Life
Frank Sinatra was born at Monroe Street, Hoboken, New Jersey, on December 12, 1915, to Italian immigrants Natalia "Dolly" Garaventa and Antonino Martino "Marty" Sinatra.
The singer weighed 13.5 pounds as a baby and had to be delivered with forceps leading to his left cheek, ear, and neck scarred, perforating his eardrum. Sinatra developed an interest in music at an early age. He listened to artists like Gene Austin, Bing Crosby, etc.
For his 15th birthday, he was given a ukulele by his maternal uncle, which he used in performing during family gatherings.
Although Sinatra attended David E. Rue Jr. High School around 1928 and A.J. Demarest High School in 1931, he didn't graduate due to expulsion after 47 days for general rowdiness.
Afterward, he enrolled at Drake Business School but dropped out only after 11 months. His mother, later on, went on to find him a job as a delivery boy with the newspaper company where his father worked. Sinatra performed at local social clubs and sang for free on radio stations.
Music Career
Sinatra began professional singing during his teenage years. His first music break was in 1935, after his mother persuaded the local singing group, The 3 Flashes, to let him be a part of the group.
In 1938, Sinatra began working as a singing waiter at a roadhouse, "The Rustic Cabin" in New Jersey.
The following year, Sinatra auditioned for and recorded "Our Love, " his first solo studio recording. In June of the same year, Sinatra signed to Harry James' who paid Sinatra $75 a week.
Working with James, Sinatra released "From the Bottom of my Heart," his first commercial record. "All or Nothing at All" was also released in the same year, but his songs kept getting poor sales leading to Sinatra's frustration with the band.
In November 1939, he joined the Tommy Dorsey band as the lead singer. Dorsey became like a father to Sinatra, acting as a primary influence on the singer's life. During his years with Dorsey, Sinatra's fame grew, and after 1942 recordings, the singer decided to go solo. This action led to a feud between Dorsey and Sinatra, which lasted until Sinatra's death.
On June 1, 1943, Sinatra signed with Columbia Records, and the song "All or Nothing at All" was re-released. The song peaked at number 2 and listed on the best-selling list for eighteen weeks.
Although Sinatra actively participated in politics between 1945 and 1946, the singer sang on radio shows, recorded songs, and starred in four movies.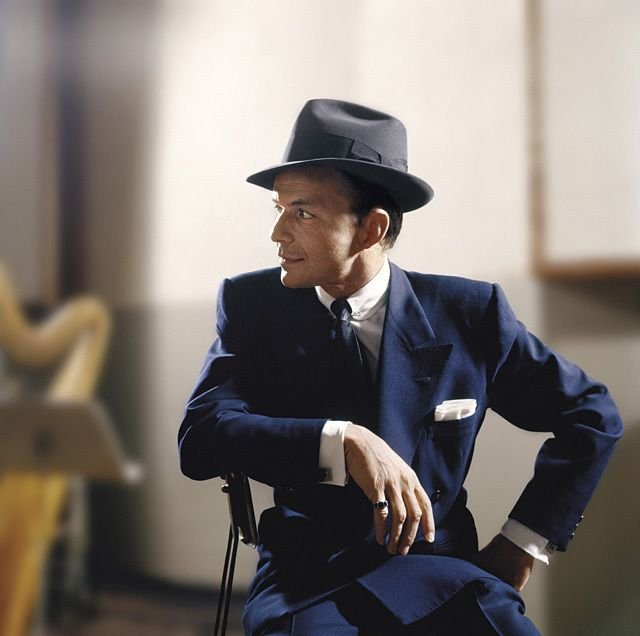 His last performance was during his 80th birthday, where he performed the closing notes of the "Theme from New York, New York ."In 1997, Sinatra was included in the Gaming Hall of Fame."
Accolades
Sinatra was named the "great singer of the 20the century" by Robert Christgau, with his popularity matched with that of Elvis Presley, Michael Jackson, and others.
In his native town of Hoboken, Sinatra was awarded the Key to the City on October 30, 1947. The City's main post office was re-committed in honor of Sinatra in 2003, with several streets and roads named in his honor.
The United States Postal Service provided a 42–cent postage stamp in honor of Sinatra in May 2008, remembering the tenth anniversary of his death.
On May 20, 2008, a resolution initiated by Mary Bono Mack was issued. The resolution designated May 13 to honor Sinatra's donations to American Culture.
During his lifetime, Sinatra obtained three honorary degrees. He received an Honorary Doctorate Litterarum Humanarum from the University of Nevada after being invited to speak.
Sinatra received an Honorary Doctorate of Fine Arts from Loyola Marymount University a few years later. Sinatra also obtained an Honorary Doctorate of Engineering from the Stevens Institute of Technology.
Death
On May 14, 1998, at 82, Sinatra passed away at Cedars-Sinai Medical Center after experiencing two severe heart attacks. The night following his death, Empire State Building lights in New York were turned blue, and the Las Vegas Strip lights were dimmed to honor Sinatra.
On May 20, 1998, his funeral ceremony took place at the Roman Catholic Church of the Good Shepherd.
We have given a lot of frank sinatra facts and information, and we have also prepared an frank sinatra lyrics quiz, so if you are a fan of his, you should play our quiz and see how much you know about his music.
So let's start with the frank sinatra quiz!