Pentatonix, also known as PTX, is a cappella music group from Arlington, Texas, formed in 2011. The group currently consists of singers Kevin Olusola, Mitch Grassi, Scott Hoying, Matt Sallee, and Kristin Maldonado.
Performing cover versions of popular songs, the group is known for characterizing their covers by their vocal harmonies, beatboxing, baselines, and more.
CAREER:
Pentatonix began with high school classmates Mitch Grassi, Kristin Maldonado, and Scott Hoying. The trio had arranged a version of Lady Gaga's "Telephone" for a radio competition.
Although they lost the competition, their performance gained attention at Martin High School.
Subsequently, their cover of "Telephone" garnered attention on YouTube.
The name 'Pentatonix' was suggested by Scott Hoying and is named after the Pentatonic scale, which had five notes. Each note is to represent the five members of the group.
In January 2012, the group signed under Madison Gate Records and began working with producer Ben Bram on the production of their first album.
On June 26, 2012, they released their first EP titled PTX, Vol 1, which charted at number 4 on the US Billboard 200 and number 5 on the digital chart, respectively, with 20,000 copies sold on the first week of release.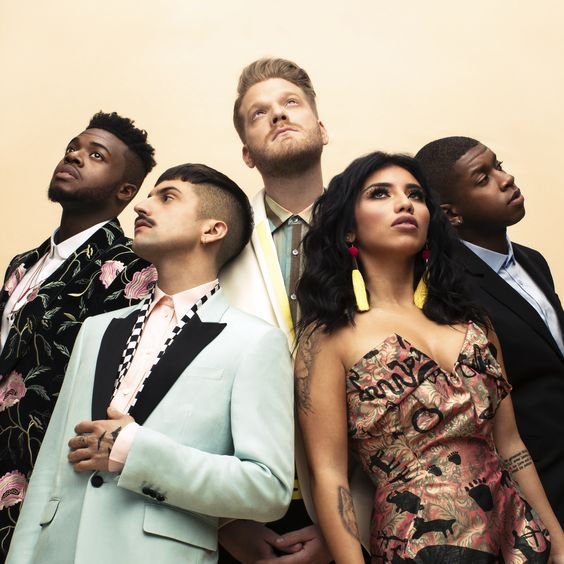 Afterward, the group embarked on their first headlining tour. From January 24, 2013, to May 11, 2013, Pentatonix embarked on its second headlining tour while simultaneously preparing to release its second EP, PTX Vol 2.
PTX Vol 2 was released on November 5, 2013, and debuted on the Billboard 200 and independent chart, debuting at number ten and number one, respectively, with 31,000 copies sold on the first week of release.
Pentatonix went on to release other EPs, albums, and covers and is currently one of the most popular vocal groups in the world.
In a YouTube video in May 2017, the group announced the exit of Avi Kaplan from the group after their upcoming tour.
The separation was peaceful and was a result of Kaplan's inability to meet up with touring demands and handle the distance from his family.
Kaplan's last performance with Pentatonix occurred in Essex Junction, Vermont, on September 3, 2017.
On October 13, Matt Sallee was introduced as the group's new bass, replacing Kaplan.
On November 27, 2017, the deluxe edition of A Pentatonix Christmas was released and was the band's first official release following Kaplan's exit.
AWARDS:
In 2017, PTX was nominated for a Daytime Emmy Award under the category of Outstanding Musical Performance in a Daytime Program for their song "God Rest Ye Merry Gentlemen."
From 2015-2017, the group won Grammy Awards under the categories of Best Arrangement, Instrumental or ACapella, and Best Country Duo/Group Performance for songs "Daft Punk", "Dance of the Sugar Plum Fairy", and "Jolene" with Dolly Parton.
Currently, the group has been nominated for the 2023 Grammy Awards for Best Traditional Pop Vocal Album for the album Evergreen.
Pentatonix also won Artist of the Year in the 2015 YouTube Music Awards. That same year at the Shorty Awards, the group won the award for Best YouTube Musician.