Avril Lavigne is a Canadian songwriter and singer who has released seven albums and has numerous nominations and awards. Her musical genres are Pop Punk, Pop Rock, Alternative Rock, and Post-grunge.
Early Life:
Born September 27, 1984, Avril Ramona Lavigne grew up in Belleville, Ontario, Canada. Avril's vocal ability was discovered by her mother when the singer was two years old, as she sang "Jesus Loves Me."
Her parents supported and encouraged her by buying her the needed instruments and turning their basement into a studio. At 14, Lavigne's parents were already taking her to perform at karaoke sessions.
Career:
In 1999, Lavigne emerged the winner of a radio contest to perform with fellow Canadian singer Shania Twain at the Corel Center in Ottawa.
Shania and Avril performed the song "What Made You Say That," where Lavigne told Twain that she aspired to become a famous singer.
While performing at the Lennox Community Theater, Avril was seen by Stephen Medd, a local singer who welcomed her to contribute vocals on his song "Touch the Sky."
Lavigne was spotted by Cliff Fabri, her first formal manager, in December 1999. Fabri sent out tapes of performances by Lavigne to multiple industries.
In November 2000, after impressing L.A.Reid with her performance, Lavigne was immediately signed to Arista Records. Afterward, Lavigne had to leave school to focus on her music career.
In May 2001, Lavigne released "Complicated" as her debut single, which was the beginning of her journey to success.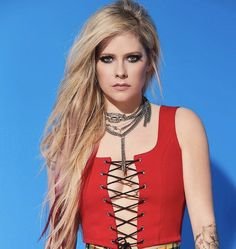 In June 2002, the album Let Go was released and reached number two on the U.S. Billboard 200 album charts and number one in Canada, Australia, and the U.K.
The album was certified Platinum four times by the end of 2002, making Lavigne the best-selling female artist of the year and the album Let Go the top-selling debut of the year. Her single "Complicated" was among the best-selling singles of 2002.
In May 2004, the singer launched her second album titled Under My Skin which premiered at number one in the U.S., U.K, Japan, Canada, and Australia. It was certified Platinum five times, selling 10 million copies.
In promotion of the Under My Skin album, Lavigne went on the 'Live and By Surprise' acoustic mall tour in the U.S.and Canada, followed by her first world tour in September 2004.
For The Princess Diaries 2: Royal Engagement, Avril Lavigne and Kelly Clarkson worked on the soundtrack song "Breakaway." She also recorded the SpongeBob SquarePants movie theme song in 2004.
In 2006, Lavigne wrote the song "Keep Holding On" for the Fox Entertainment Group fantasy-adventure movie "Eragon."
In April 2007, her third album, The Best Damn Thing, was released, debuting at number one on the U.S. Billboard 200, selling over 2 million copies.
The album's lead single, "Girlfriend," peaked at number one on the U.S. Billboard Hot 100 and was among the successful singles of the decade.
Accolades:
At the SCOAN Awards, Toronto, in 2003, Lavigne won an International Achievement Award for her song "Complicated." The singer has received eight Grammy Awards nominations, one Brit Award nomination, and one MTV Video Music Award.
Lavigne has sold more than 30 million and 40 million copies of singles and albums worldwide, respectively. Lavigne was named the number 10 Pop Artist in the "Best of the 2000's" chart by Billboard in 200.
On January 11, 2003, Lavigne was added to the Guinness World Record as the youngest female solo artist to top the U.K. album chart.
In the U.S., she was named the 28th overall best act of the decade based on album and single chart performance.