Arrested Development is a sitcom that aired on the Fox network and Netflix. Mitchell Hurwitz created the series, and it had five seasons with 84 episodes.
The series aired on the Fox network from 2003 to 2006 for three seasons. Netflix revived it in 2011, where it ran for two seasons from 2013 to 2019.
Ron Howard is the show's executive producer as well as its narrator.
Cast
The main cast of Arrested Development included actors Jason Bateman, Portia de Rossi, Will Arnett, Michael Cera, David Cross, Tony Hale, Alia Shawkat, Jeffrey Tambor, and Jessica Walter, with Ron Howard as the show's narrator.
The series' recurring cast included the likes of Maria Bamford, John Beard, Bob Einstein, Isla Fischer, Justin Lee, Amy Poehler, Ben Stiller, and Charlize Theron, amongst others.
Overview
The premise of Arrested Development revolves around the Bluth family members. The Bluth family was formerly wealthy but lost their riches due to changed circumstances. Despite the situation, the family continues to lead an extravagant lifestyle.
Michael Bluth, portrayed by Jason Bateman, is the most righteous person in the Bluth family. He strives hard to keep his family together despite their shortcomings.
Michael is widowed and has a teenage son named George Michael, who is similar to Michael but faces the constant pressure of living up to his father's expectations. He has a crush on his cousin Maeby.
George Bluth Sr. is the Bluth family patriarch and Michael's father. By profession, he is a real estate developer. Due to his corrupt behavior, he gets arrested. He continues to control and manipulate his family, despite being imprisoned.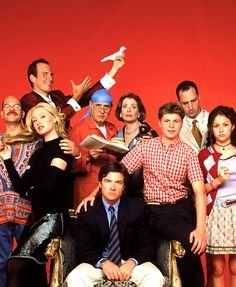 George Sr.'s wife, Lucille, is an alcoholic, manipulative, hypercritical, materialistic lady. She has a tight grip on her youngest son, Byron Bluth. Byron is prone to panic attacks and has dependency issues.
George Oscar Bluth II is Michael's older brother and an unsuccessful magician who bullies Byron and competes with Michael over the affection of women.
Lindsay is Michael's twin sister and is attention-seeking, vain, spoiled, and materialistic. Lindsay's husband, Tobias Funke, is an aspiring actor and Tobias' behavior and language have heavy homosexual overtones, making him the object of ridicule among other family members.
Maeby Funke is the daughter of Lindsay and Tobias Funke. She is rebellious, pursues boys and power, and seeks attention by defying her parents.
The story is in Newport Beach, California, and the filming occurred in Marina del Rey and Culver City.
Reception
Arrested Development received a lot of critical acclaim.
But despite the thumbs-up from the critics, the series received low ratings and viewership from the audience. The Fox network canceled Arrested Development in 2006.
The series finale episode received a viewership of 3.43 million viewers.
Netflix revived the series in 2011 and released new episodes of the fourth season in May 2013. Netflix renewed the series for a final fifth season, which aired in two parts- in May 2018 and March 2019.
Accolades
Arrested Development amassed a cult following and was nominated and received awards at all major award shows.
The series won five Emmy Awards for its first season, including the Outstanding Series, Direction, Casting, Editing, and Writing. It received seven nominations that year.
It won the Outstanding Writing for a Comedy Series at the 2005 Emmys.
For his portrayal of Michael Bluth, Jason Bateman won a Golden Globe in 2005.
Several publications such as Entertainment Weekly, Time, and IGN named Arrested Development one of the greatest TV shows of all time.
Arrested Development has influenced other single-camera comedy series- Community and 30 Rock.